TRIBECA: Clint Eastwood Tells Darren Aronofsky It Would Be 'Great' To Be A 100 Year-Old Filmmaker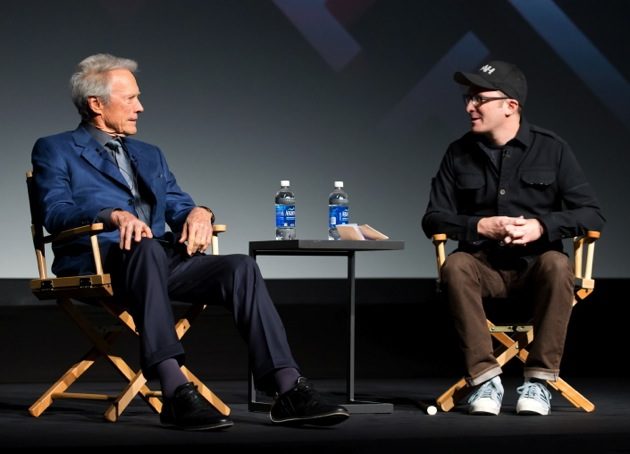 "I met you once for a handshake and I was terrified," Darren Aronofsky  told Clint Eastwood during their Tribeca Talks Directors Series discussion on Saturday. "I'm still a little terrified."
The two men chatted (fittingly, in directors' chairs) following the Tribeca Film Festival premiere of Eastwood Directs: The Untold Story, a 60-minute documentary about the actor-turned-filmmaker's career behind the camera.
Although the 82-year-old Eastwood is almost double the age of Aronofsky, it was The Wrestler director who walked with a cane. He lowered himself into his seat while Eastwood gestured to the applauding crowd and, with a smile on his face, told them to "knock it off." The man who once played Dirty Harry kept up the charm offensive throughout the conversation and didn't address any empty chairs.
The Academy Award-winning director and Academy Award-nominated one discussed a number of topics, including directing children, working with actors, working with digital cameras and sustaining a passion for filmmaking.
On that last subject, Eastwood said, "I don't think you ever lose it." He then referenced 104-year-old Portuguese director and screenwriter Manoel Cândido Pinto de Oliveira. (The Strange Case of Angelica).
"That's always everybody's dream," Eastwood said. "Wouldn't it be great to be 105 and still be making films?" He dubbed this hope "the ultimate optimism."
More wisdom and anecdotes from Eastwood include:
"You have to fight for what you want, for what you believe in."
"A director has to be the most malleable person on set."
"Directing is having your hands on everything. It's the ultimate power trip."
"If [filmmaking] was that painful, I'd consider myself somewhat of a masochist."
When Aronofsky asked Eastwood the first thing he does upon arriving at a new set or location, the movie-making veteran replied, "I was thinking of throwing up. For some reason that came into my mind. We won't print that."
Too late.
For more from Eastwood and Aronofsky, check out their discussion in its entirety below:
More on Clint Eastwood: 
Nell Alk is an arts and entertainment writer and reporter based in New York City. Her work has been featured in The Wall Street Journal, Manhattan Magazine, Z!NK Magazine and on InterviewMagazine.com, PaperMag.com and RollingStone.com, among others. Learn more about her here.
Follow Nell Alk on Twitter.
Follow Movieline on Twitter.