WATCH: 'Kiss Of The Damned' & 'Hemlock Grove' Videos Are All About Sex & Horror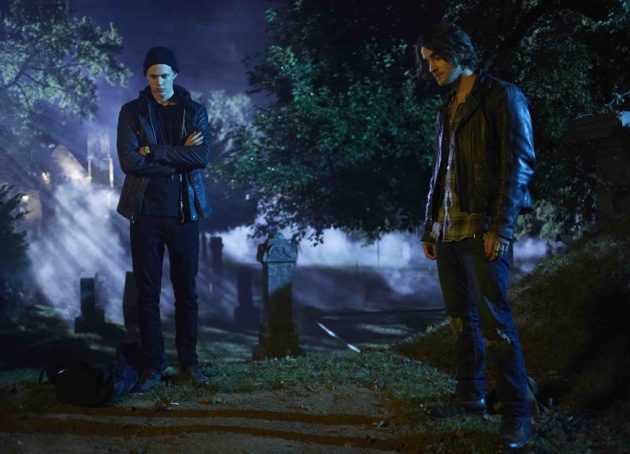 Sex and horror have long been cinematic kindred spirits for decades now, whether you're talking The Phantom of the Opera,  Alfred Hitchcock's Psycho, the Hammer horror films of the 1970s, the Friday the 13th franchise or Re-Animator. And in today's crowded media marketplace the dual themes seem to have become even more prevalent — and graphic. The last 24 hours have seen the release of two film clips that mix gore and sex in memorable ways. Check it out:
Today, for instance, JoBlo.com posted an exclusive video from Xan Cassavetes va-va vampire flick Kiss of the Damned. The movie, which features Elvis Presley's granddaughter Riley Keough, hits theaters on May 3, though you can watch now on VOD. (Vampire on Demand). In the trailer below, two couples engage in some heavy making out, and one ends with some rather severe tissue damage. That will make you think twice about giving in to passion.
Kiss of the Damned, Indeed!
And then there's the latest trailer to Netflix's Eli Roth-produced horror series,  Hemlock Grove.  Although it's not nearly as hard to watch as the bone-cracking, eye-popping werewolf transformation we posted last week, it is seriously weird from the get-go. Don't miss the red-band warning that alerts viewers to "mild fornication, fellation, heavy cocaine use, lesbian necrophilia and violent hemorrhaging."  (Really?  That's meant to be a deterrent?)
As one character says midway through the trailer, "What the fuck is going on?"  You will probably agree with him, since right after that scene, there's a sequence where a woman kisses the very pale, open-eyed corpse of a women, and then a quick cut to a shot of what appears to be the same woman screaming over the fact that the dead woman's severed torso is crawling with maggots. What the fuck is going on, indeed!  Is some sort of lesbian necrophilia hygiene issue being played out here?  You know, I love kissing dead girls, but dead girls crawling with maggots have....cooties!  If that's the case, the lesson is similar to the one that the unlucky male victim in the Kiss of the Damned trailer learned too late. If you're going to be overcome with lust, then do some research beforehand.
Kissed A (Dead) Girl:
That's a tough act to follow.
[JoBlo]
Follow Frank DiGiacomo on Twitter.
Follow Movieline on Twitter.