WATCH: 'Rush' Trailer − Has Ron Howard Finally Released The Clutch On His Stolid Filmmaking Style?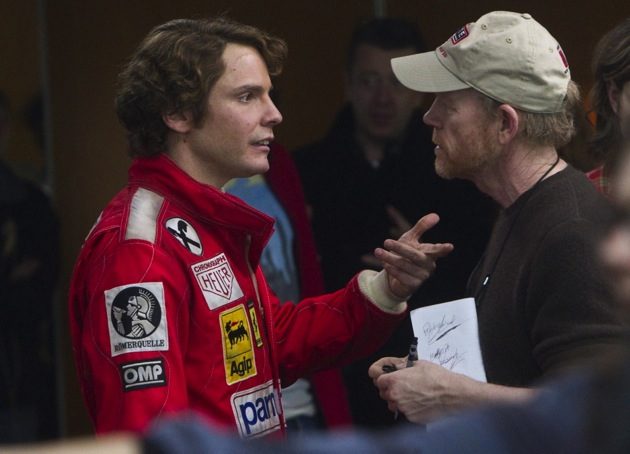 Ron Howard's time across the pond looks like it has been good for him.  With the exception of Talladega Nights: The Ballad of Ricky Bobby, I've never been a fan of racing movies.  I realize that death lurks around every curve, but, from a spectator's perspective, auto races are about as thrilling as Major League baseball games. There's a lot of monotony in those laps (and innings).

I feel the same about Howard's stolid filmmaking style — have you seen The Da Vinci Code lately? — so when I learned he was the director of Rush, the story of the 1970s rivalry between Formula One race-car drivers Austrian Niki Lauda and Brit James Hunt, I didn't exactly put it on my must-see list of 2013.
But after watching this revved-up UK trailer for the movie, I've changed my mind.  I'm now eager to see Rush, if only to determine whether Howard has shaken up his filmmaking style as much as this clip indicates. To use a punny driving term: he looks like he's really released the clutch on his safe style.  There's real tension and unpredictable energy in this footage, which was shot in the UK and Germany, as well as a kind of feckless romance that is so Seventies. (As Hunt, the rakish Chris Hemsworth, says in voiceover: "The closer you are to death, the more alive you feel." Oh yes, and Olivia Wilde plays 70s model Suzy Miller.)
And pay special attention to Daniel Brühl, who may not be as handsome as Hemsworth, but is much more compelling as Lauder, the Austrian driver who was horribly burned in a crash at the 1976 German Grand  Prix. Remarkably, he returned to the track six weeks later to keep Hunt from knocking him  from his standing as the number-one ranked drive in the world.
The actual outcome of that race is rather anticlimactic in movie terms — Lauda retired from the race — so it will be interesting to see whether Howard can make it pay off dramatically. That said, the film's September release date — when the film industry is getting into the awards-season mindset in earnest, suggests that he's found a solution. I'll be watching.
Ron Howard's Shakes Up His Filmmaking Style With Rush
Follow Frank DiGiacomo on Twitter.
Follow Movieline on Twitter.