WATCH: 'The Host' Author Stephenie Meyer Loves Sex & Sci-Fi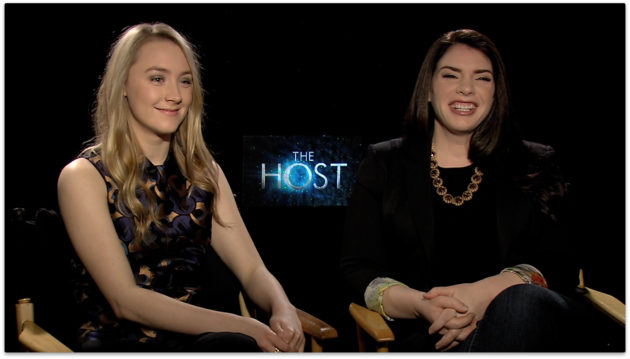 The Host author Stephenie Meyer is a sci-fi grrrl. Now that the Twilight creator is transitioning from vampires and werewolves to aliens, I asked her what it was like to work in the male-dominated science-fiction genre. "I grew up reading science fiction!"  she told me. "There are many women out there reading science fiction and enjoying it — it's our genre too!"
I also asked why her Twilight novels seemed to promote abstinence when the key characters in The Host, Melanie and Jared, have plenty of sex before marriage.  Turns out, Twilight was never about abstinence! "In Twilight, there was a character who was born in the early 1900s and had a different value set.  And I really enjoyed taking this anachronistic character, shoving him into modern life and having him stay who he is and making everyone else bend."
Meyer's unique look at relationships has earned her many fans, including Diane Kruger who plays the main villain in The Host: "I love Twilight, I have to say.  I was totally Team Edward!" the actress told me. But beyond Meyer's pretty boys, Kruger feels the author looks out for women most of all. "That's what I like about Stephenie Meyer.  I think it's rare to have not just a female centered movie but to have two female protagonists in a film," a reference to Melanie and the alien "Soul", Wanda, who shares her body. "That's really rare," Kruger adds.
Max Irons and Jake Abel are Meyer's pretty boys this time around, and Irons points out that his co-star is the one who has to depict "interspecies love" since Abel falls in love with an alien.  Abel defends their relationship though, saying his character falls in love with alien Wanda because "there's a sense of softness to her and he's in a group of people that have been really hardened by a struggle to survive."
Check out my full interviews below:
Follow Grace Randolph on Twitter.
Follow Movieline on Twitter.