WATCH: Gerard Butler Takes A Cigarette To The Face In 'Olympus Has Fallen'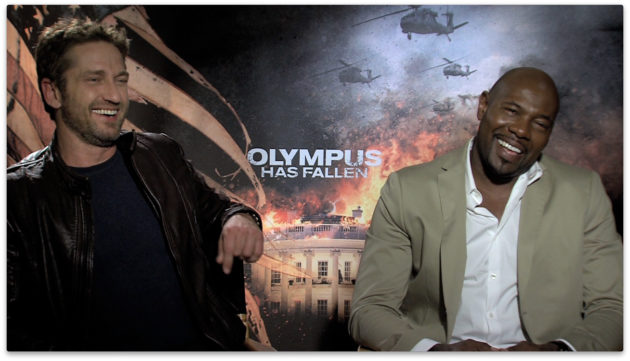 Olympus Has Fallen features an almost 30-minute assault on The White House, and producer/star Gerard Butler says the extended siege wasn't to show off. "You're not going to take over one of the most defended buildings in the world in 30 seconds," he told me.  "There's a version of that, but that's not our movie."
And with such an intense scene, where do Butler and director Antoine Fuqua stand on the current controversy over special effects houses in Hollywood feeling underappreciated?  "It's tough," empathizes Fuqua.  "The visual effects, they deserve a lot of credit because, y'know, we get to go to worlds and see things you can never ever do.  So, there are extremely creative people in these houses that deserve just as much respect as everyone else.  They're a part of the team."
I also spoke to Aaron Eckhart, who co-stars as the president.  Did he ever imagine that with all the smarmy characters he's played, one of the most earnest would be a politician? "Well I like that!" Eckhart laughs.  "I expect the politicians — my politicians, I'll say — to be honest and...trustworthy and truthful...so that's kind of what I wanted to portray in this character here."
But that doesn't mean Olympus Has Fallen is all hugs and kisses.  It's surprisingly violent — and enacting that violence took its toll on the cast.  Rick Yune, who plays the film's villain, confesses that co-star Dylan McDermott accidentally burned Butler's face with a cigarette.  McDermott totally owns up to it, saying "Yeah, I burned his neck...then I got hit in the throat which took me down for a few minutes...we all got our battle scars!"
Check out my full interviews with Butler and company below:
[youtube http://www.youtube.com/watch?v=og99Ik-JchA&w=640&h=360] [youtube http://www.youtube.com/watch?v=KqKGylw3uZg&w=640&h=360] [youtube http://www.youtube.com/watch?v=4peR_ZpeSCU&w=640&h=360]
Follow Grace Randolph on Twitter.
Follow Movieline on Twitter.