James Franco Wears Lipstick, Directs Kenneth Anger In Daddy Music Video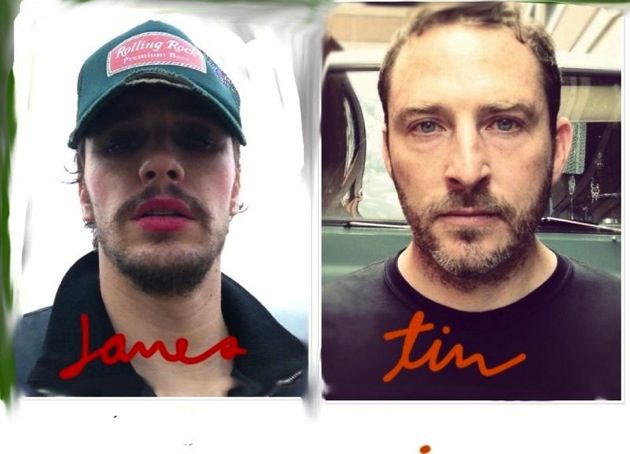 It's Tuesday afternoon, time to figure out what James Franco has done today to merit our attention. Well, lookie here:  The Spring Breakers star has donned lipstick, eye shadow and a Rolling Rock cap to promote the release of the music video for "Love in the Old Days (Ted James 1999 Mix)"  by his band with fellow Rhode Island School of Design alumnus Tim O'Keefe.  Better yet, Franco directed the clip and cast one of his underground idols, Scorpio Rising filmmaker and Hollywood Babylon author Kenneth Anger as a theremin-playing occult priest.  Yeah, it's that kind of freaky. 
James Franco's Band, Daddy: 'Love in the Old Days (Ted James 1999 Remix)' Music Video
Interview magazine posted the exclusive on its website on Tuesday, and Franco released this statement about the clip:
"Kenneth Anger has been an influence on me since I was first exposed to 'Kustom Kar Kommandoes' and 'Scorpio Rising,' but especially 'Scorpio Rising,'" explains Franco. "When I went to NYU for film, I was always looking for ways to Anger up my films. My first one in particular, 'The Feast of Stephen' owes a lot to Anger, the way his camera transformed a gang of real 1960 bikers into homoerotic gods. In other films and projects I loved the way he took celebrity and the occult and fused them in [Sergei] Eisensteinian juxtapositions to achieve a greater, spiritual/aesthetic significance."

"I was asked to do project about a marriage," Franco continues, describing the footage used in the video. "I wanted to do two marriages and call it 'The Marriage of Heaven and Hell after Blake.' I could think of no one better to preside over the marriage of Hell than Anger. He is a force. A fusion of art, pop-culture, magik and sex. He is the voyeur-king."
Franco certainly Angered up this video, which depicts an occult wedding ceremony at a strip bar and one helluva French kiss near the end. Call it Scorpio Settling Down.  See if you can name all of the different animal heads that the wedding guests are wearing. Or play a game with your kids and  ask them to name them. (Wait, this is the Internet. I need to add that I'm kidding.)
Follow Frank DiGiacomo on Twitter.
Follow Movieline on Twitter.