LOLCats! Michael Haneke & His Twitter Parody Had A Few Things In Common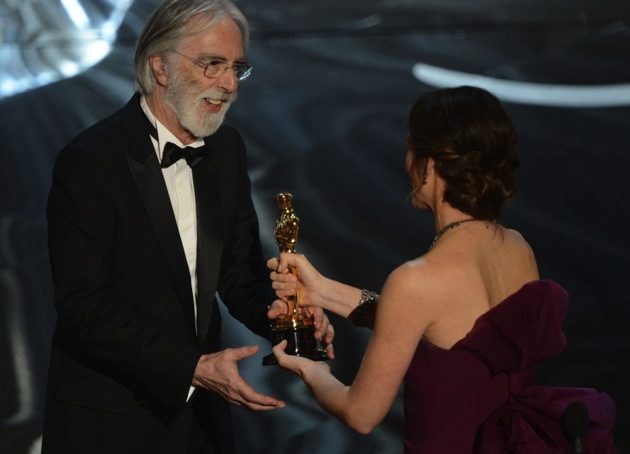 The parody Twitter account that bore Amour director Michael Haneke's name actually got a few things right about the Austrian director. On Thursday, Benjamin Lee, the Shortlist.com Deputy Editor who, earlier this week, revealed himself to be the prankster behind the memorably loopy @Michael_Haneke parody Twitter feed, wrote about learning that the real Haneke is more of a "goofball" than he expected.  And a cat lover, too.
Benjamin Lee On The Real Vs. Fake Michael Haneke Twitter Account
In a column for the British newspaper, The Guardian, Lee explained that he had started the Twitter account as a "purposely lowbrow" response to the Oscar-winning filmmaker's "chilly, occasionally pretentious demeanour" and his contempt for the mainstream. Part of the fake Haneke's shtick included repeated references to his "stinky cat,"  which Lee explained, "
was a recurring joke made to distance the two Hanekes even more, not being able to imagine the director of The White Ribbon making so many references to his cat's flatulence."
Lee has since learned that the two Hanekes are a bit closer than he imagined. While watching Yves Montmayeur's documentary about Haneke,  Michael H. - Profession: Director,  he wrote that he was shocked to discover that Haneke actually is "the proud owner of more than one cat, a fact that few people know."
He also noted:
"In the documentary, however, Haneke comes off as refreshingly candid. He has a charming sense of humour. Not that I had thought him humourless (there are darkly comic moments in The Piano Teacher and Funny Games), but I hadn't expected him to be a goofball. For example, when assembled with the Time of the Wolf cast, he pulls the classic bunny ears prank behind one of the child actors. Not what you might expect from the man who believes that all movies should assault the viewer."
Haneke's Reaction To The Twitter Parody
Lee also admitted that he was looking to get a rise out of the filmmaker:
When I started tweeting as Haneke, I was intrigued by what his reaction would be. I was expecting apathy and possibly contempt but he expressed intrigue and, yes, a small amount of contempt. "I tried to read some of the posts but my English isn't good enough to allow me that," he said in an interview. "I'm really not interested in what he's writing, but I'm fascinated by the fact that 25,000 people have subscribed to this feed of nonsense!"

I fear that my affectionate spoofing has helped to prove his thoughts on the mainstream to be horribly accurate. But at least I've shone a light on those unsung cats of his LOL.
I wonder what the real Haneke makes of this now.  At the very least, he should let the world know whether his cats are flatulent.
More On @Michael_Haneke:
Follow Frank DiGiacomo on Twitter.
Follow Movieline on Twitter.