WATCH: Indie Darling Julia Garner Talks 'Electrick Children' & 'Sin City 2'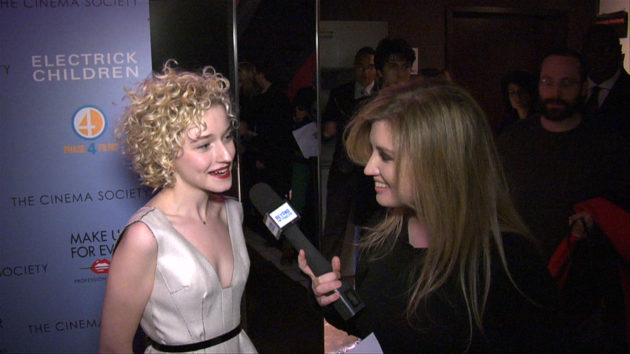 Last year, independent film gave us Elizabeth Olsen, and this year it appears the spotlight is set to shine on her Martha Marcy May Marlene co-star Julia Garner.   But whether she's doing an indie film like Electrick Children or Robert Rodriguez and Frank Miller's upcoming Sin City 2, Garner says "it's all about finding a good story".
What's the story behind Electrick Children?  Kickstarter!  When writer/director Rebecca Thomas and producer Jessica Caldwell, then film students at Columbia, wanted to fund her feature film about a Mormon teenager's voyage of discovery they turned to the popular website - and literally struck gold.
More Mormons?  Yes it looks like pop culture isn't done with the religious group yet, Thomas told me she "wanted to adapt the Virgin Mary story from the Bible, and thought if there was ever a girl who thought she had immaculate conception it would probably be from one of these really closed-off fundamentalist communities."
Check out my full interview at The Cinema Society and Make Up For Ever's NYC screening below:
[youtube http://www.youtube.com/watch?v=oE-qwO6eTFU&w=640&h=360]
Follow Grace Randolph on Twitter.
Follow Movieline on Twitter.