Jennifer Lawrence Can Now Say Whatever The F%@# She Wants!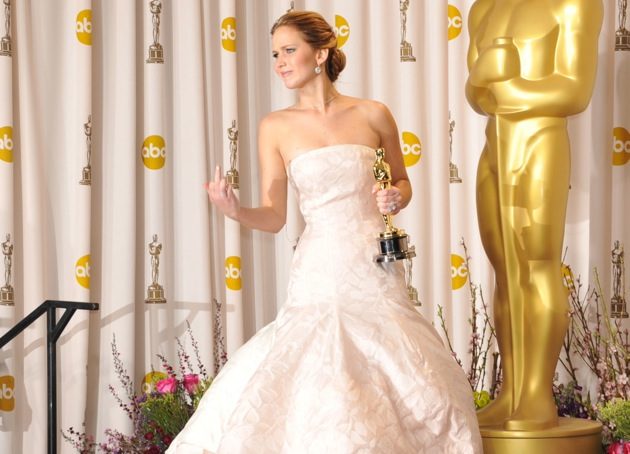 Jennifer Lawrence's Best Actress Oscar win is more than a career milestone. During awards season, Lawrence got dinged by people like me for speaking her mind and not being more politic during the campaigning process. She didn't really listen, and, guess what, it didn't really matter.
THE BIG NIGHT IN PICTURES: CHECK OUT JLAW IN MOVIELINE'S OSCARS RED CARPET PHOTO GALLERY 
Lawrence got her Oscar, and, for my mea culpa,  I'd like to point out that her outspokenness had a lot to do with why she brought home a little gold man last night.  Although Lawrence is nowhere near the loose cannon that, say, Alec Baldwin can be, she and the former 30 Rock star are really good at their jobs precisely because they're rarely self-conscious about expressing themselves.  As Baldwin once told me, his first thoughts when he gets up in the morning are not "about who I am in relation to the public and the media."  That certainly could serve as a synopsis of Lawrence's approach to the Oscar-season interview slog, including last night.
Jennifer Lawrence: Oscar Winner's Press Conference
Check out this clip that the U.K. Telegraph posted of Lawrence answering questions backstage after her Best Actress win. Based on her reactions to some of the more ridiculous questions she was asked and the above photo of her flipping the bird with her Oscar, I suspect we can count on Lawrence being even more outspoken in the future — even if she hasn't done a shot. You won't hear me complaining.
Follow Frank DiGiacomo on Twitter.
Follow Movieline on Twitter.