Old Fiends: 'Jack The Giant Slayer' Big Baddies Recall Klaus Kinski, Rondo Hatton and...Shemp Howard?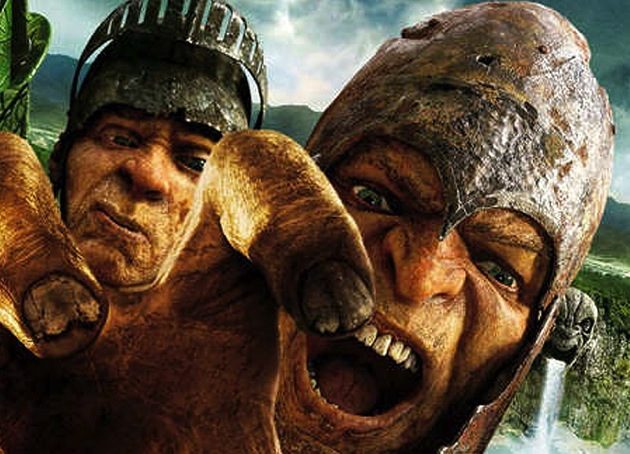 Klaus Kinski, Rondo Hatton and Shemp Howard will always be giants in my personal pantheon of great character actors. And now, I swear, they are giants. Their distinct mugs seem to have inspired the facial characteristics of a couple of the really big guys in Jack The Giant Slayer.  
Every time I see the poster for the movie (check out the featured photo above), I can't help but think of Kinski in Werner Herzog's Aguirre: The Wrath of God. The computer-generated character's name is General Fallon. He's voiced by Bill Nighy and appears to have a second head, which calls to mind Shemp Howard from the Three Stooges or, possibly, Lionel Stander from Frank Capra's Mr. Deeds Goes to Town.
When I gaze upon the craggy face of another giant, Fye, I get a blast of nostalgia from even farther back. That CGI character's features recall a thinner lipped Rondo Hatton, the 1930s and '40s character actor and B-Movie icon who turned his acromgegaly into a movie career that landed him parts in the Sherlock Holmes movie The Pearl of Death, Spider Woman Strikes Back and House of Horrors.
Do you see what I see?  Let me know if you agree in the comments section and whether any of the other CG giants remind you of flesh-and-blood actors.
Follow Frank DiGiacomo on Twitter.
Follow Movieline on Twitter.