WATCH: Sylvester Stallone Shows Off Some Gray Matter At 'Bullet to the Head' Premiere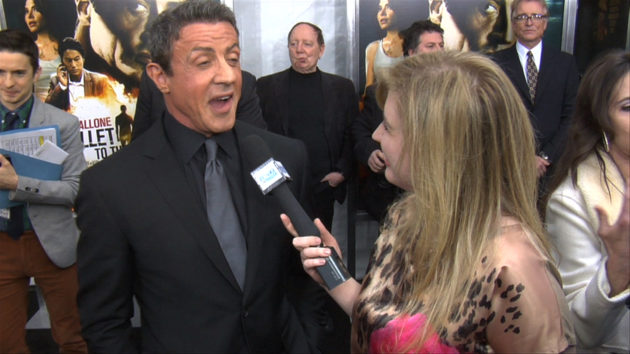 Sylvester Stallone doesn't just use his cranium for a battering ram.  On the red carpet at Tuesday's premiere of Bullet to the Head, the enduring action star — who wrote his ticket to stardom in 1976 with Rocky — told me that he does keep moviegoers in mind when he approaches a project. "The one thing you have to do is try to be creative with the audience but not be so self-serving," Stallone explained. "In other words, [don't] get too goofy too far out there.  Y'know, you try to give them what they want but give them a little twist on it."
Bullet to the Head co-star Sung Kang told me he's happy that Stallone, and Hollywood, are willing to try new things.  I asked him what it was like as an Asian actor to forge a career and Kang said "I think the world's changing.  It's becoming more global, and giving opportunities to actors like me...I think it's baby steps, but it's getting better."
Jason Momoa from HBO's Game of Thrones is also in the flick but he and Stallone don't merely have a fist fight - they have an ax fight!   Did Stallone have any tips for the up and coming action star?  "Yeah," says Momoa, "'don't hit me'!"
Check out my full red carpet interview below:
[youtube http://www.youtube.com/watch?v=wy5mZLhkZpo&w=640&h=360]
Follow Grace Randolph on Twitter.
Follow Movieline on Twitter.