High And Low: Wenders' 'Pina' Is Less Stodgy & Travis' 'For A Good Time, Call...' Less Stupid Than You Might Think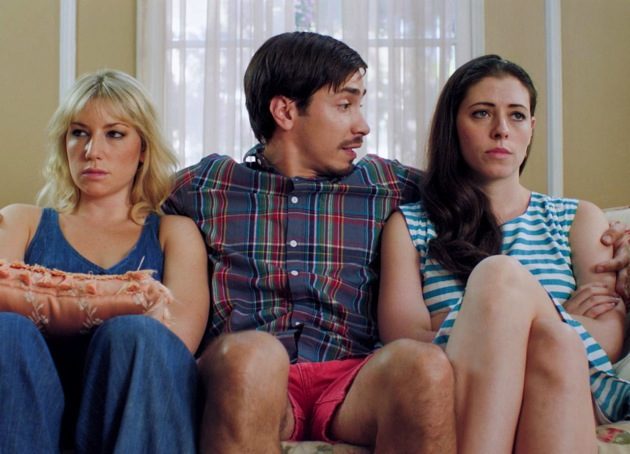 This week's High and Low celebrates the sublime and the obscene. But though the two movies I've spotlighted couldn't be more different, they're both a lot of fun. Perhaps the case could be made that both movies celebrate female artists and their unique voices, but that might be stretching things a tad. Still, you might find yourself surprised by these titles — one's less stodgy, and the other less stupid, than the casual observer might at first realize.
HIGH: Pina (The Criterion Collection; DVD $29.95, Blu-Ray/3D Blu-Ray Combo Pack, $49.95)
WHO'S RESPONSIBLE: Directed by Wim Wenders; featuring dancers from the Tanztheater Wuppertal Pina Bausch.
WHAT'S IT ALL ABOUT: A celebration of the work of revolutionary dancer and choreographer Pina Bausch, whose visionary ideas about dance ranged from the kinds of movement that could be incorporated into performance pieces to the use of water, dirt and rocks onstage. (If you've seen Pedro Almodóvar's Talk to Her, the dance pieces that bookend that film are Bausch works.) The interviews aren't particularly illuminating, but the dance comes alive for Wenders' camera, particularly since he shot in 3-D, which in this case helps make the cinematic experience more like being there live.
WHY IT'S SCHMANCY: Even if the words "modern dance" send chills down your spine, Wenders makes this work very approachable, mixing performance with occasional narration from the late Bausch's collaborators and acolytes in a way that brings us in and lets even dance newbies understand why this work is so groundbreaking and extraordinary.
WHY YOU SHOULD BUY IT: Criterion goes 3-D for the first time with this release, and they couldn't have picked a better movie to show off the process. There's not a lot leaping out at you. Wenders instead goes for depth, and the effect both highlights the movement of the dancers and creates a physical context for their movement. There's also the usual truckload of Criterion extras, including an interview with and commentary by Wenders, deleted scenes and a booklet that makes up for one of the movie's minor shortcomings by identifying the dancers.
LOW: For a Good Time, Call… (Universal Studios Home Entertainment; DVD $29.89, Blu-Ray $34.98)
WHO'S RESPONSIBLE: Directed by Jamie Travis; written by Lauren Miller and Katie Anne Naylon; starring Miller, Ari Graynor, Justin Long, Seth Rogen, Kevin Smith.
WHAT'S IT ALL ABOUT: Recently dumped and between gigs, Lauren (Miller) is forced to share digs with her old college nemesis Katie (Graynor). The two become best pals after Lauren discovers that Katie is working as a phone-sex operator — and that the strait-laced Lauren, much to the surprise of both, is a natural at talking dirty for 99 cents a minute.
WHY IT'S FUN: I know, the idea of a phone sex comedy feels at least a decade and a half out of date, but For a Good Time, Call… does a convincing job of making the idea of hot telephone chat seem contemporary, even in the Internet age. What's such a treat about the movie is the way that it explores the intimacy of female friendships, while also allowing its leading ladies to be bawdy and outrageous in a way that never feels like a man's idea of what a potty-mouth woman would sound like.
WHY YOU SHOULD BUY IT: Given the film's racy premise, it's not surprising that they've got a longer, "unrated" cut that features even more smutty humor than the theatrical version. If you've got the time, they've got the funny.
Alonso Duralde has written about film for The Wrap, Salon and MSNBC.com. He also co-hosts theLinoleum Knife podcast and regularly appears on What the Flick?! (The Young Turks Network).  He is a senior programmer for the Outfest Film Festival in Los Angeles and a pre-screener for the Sundance Film Festival. He also the author of 101 Must-See Movies for Gay Men (Advocate Books).
Follow Alonso Duralde on Twitter.
Follow Movieline on Twitter.