'The Last Stand' Director Kim Jee-Woon On Arnold's Age And His 'Jin-Roh' Adaptation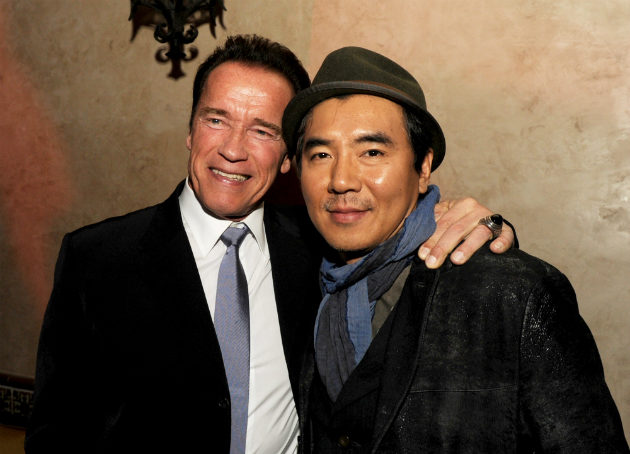 Arnold Schwarzenegger warned us he'd be back, but the ex-Governator's big action comeback as a small-town border sheriff in The Last Stand fizzled over the weekend with a tenth-place box office finish. Shame, because The Last Stand also marks a milestone for director Kim Jee-Woon, who makes his English-language debut with the tongue-in-cheek contemporary Western after building an eclectic resume in his native Korea including the horror pic A Tale of Two Sisters, the Eastern-Western The Good, The Bad, And The Weird, and the crossover thriller I Saw The Devil. Movieline spoke with Kim (via interpreter) about dipping his toes into Hollywood and his plans to put a Korean twist on Inrang, his upcoming adaptation of the anime Jin-Roh: Wolf Brigade.

Despite the language barrier your creative stamp is evident here, especially in your set pieces - but why make your Hollywood debut with an Arnold Schwarzenegger movie like The Last Stand?
After my film The Tale of Two Sisters I received a lot of offers from Hollywood to direct, but because A Tale of Two Sisters was a horror film I received a lot of horror films. But I wasn't interested in working in the same genre, and the scripts I received for films in different genres were for projects that were near completion. To participate in those I felt a little rushed, but with The Last Stand I not only had the opportunity to work with Arnold, it was in the early stages of development so I was able to take my time to mold the script and the story and characters.
The Last Stand is a contemporary Western, and with The Good, The Bad, and The Weird you crafted an ode to the genre. How did you want to filter the Western film through your unique perspective in The Last Stand?
The Western is as American as a film can get – there's the discovery of a frontier, the element of a showdown, revenge, and determining the best gunman. There's a certain masculinity to the Western that really appealed to me and I've always wanted to do a Western in Hollywood. But it wasn't just about action; rather, it was about good vs. evil and the story of a certain character defending a certain value, defending justice. I feel that with The Last Stand I was able to put a modern twist to it and add a new flavor to the genre.
You were a big fan of Arnold in Last Action Hero, which was a great vehicle for him – it allowed him to embrace his action hero status with a sense of self-awareness. Your film also has that spirit: It is his potential comeback after years away from the screen, and Arnold constantly acknowledges his age. How did you approach directing "Arnold Schwarzenegger" the returning action legend?
I'm a big fan of Last Action Hero and also Terminator and True Lies, and directing this film was sort of like being in Last Action Hero – I was the little boy in that film. Just to be directing a huge action star was like being in that movie. In that film the little boy says, 'My hero can't do this, my hero can't be like that,' and there were certain limitations I wanted to put on Arnold as a hero. The perfect limitation was his age and fatigue, but I wanted to show Arnold overcoming these limitations to take part in the biggest battle, the biggest struggle of his life. I talked about it the first time I met Arnold. A lot of people remember him as the Terminator but I wanted to portray him as a weary hero – I thought it would allow for a deeper connection with the audience. When I first met Arnold I was concerned about mentioning his age, but Arnold actually brought it up first – he said he wanted to act his age. I realized Arnold's insight and wisdom.
You've said you might return to make another American film next – what can you share about that and your immediate future plans?
I'm working on a feature length film in Korea and will be finishing that up this year.
That would be your adaptation of the anime Jin-Roh, correct?
I'm preparing that but modifying the story to fit into the Korean setting [from the original Japanese setting]. Then I'll be back in the United States early next year and there are two projects I'm considering.
What's the greatest lesson you learned about how filming in America differs from making movies in Korea?
The biggest thing that I've learned in Hollywood is the process of execution. In Korea, how I used to work is I would have a vague idea, process that idea, and work with that idea [as I was filming], but here I realized that every crew member and every person involved needs clear vision and clear directions. Through that I've learned to bring out a clear idea from within myself.
Follow Jen Yamato on Twitter.
Follow Movieline on Twitter.