'The East': How Marling & Batmanglij's Dumpster-Diving Freegan Summer Inspired The Eco-Anarchist Sundance Thriller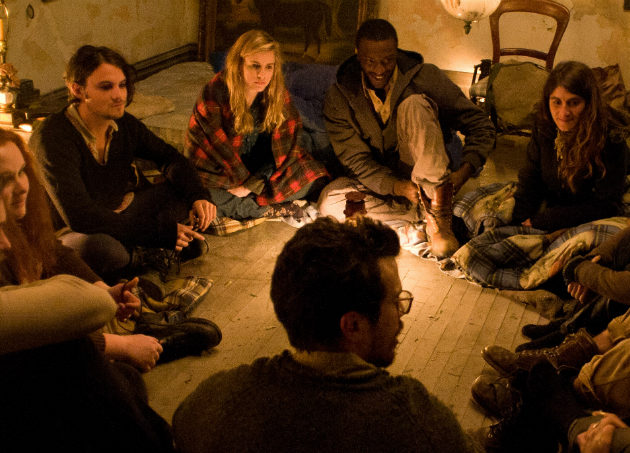 Two Sundances ago Brit Marling mesmerized as the leader of a cult being infiltrated by two would-be documentarians in Zal Batmanglij's Sound Of My Voice; this year she returns to Park City as the infiltrator, playing a corporate operative who goes undercover within a volatile anti-capitalist eco-anarchist group in Batmanglij's sophomore feature, The East. Hit the jump for a peek at the tense first trailer and let Ellen Page's steely-pixie voice put you on edge.

The East just debuted in Park City to mixed-positive buzz, with some critics praising Batmanglij's yarn-spinning direction. Fox Searchlight has this pic and Park Chan-Wook's Stoker at Sundance (both produced by the late Tony Scott). As a fan of relative newcomer Marling I hope this one finds its footing, since Fox Searchlight is in the Brit Marling business but hasn't yet been able to make her critically praised films (Sound of My Voice, Another Earth) into bona fide indie hits.
That said, while The East packs more star power (Ellen Page, Alexander Skarsgård, Julia Ormond, Shiloh Fernandez, Patricia Clarkson, Toby Kebbell!) than Batmanglij and Marling's previous collaboration the behind-the-scenes story of its creation is more of a curiosity factor. The action-mystery spy pic, reportedly shot for $6.5 million, according to Batmanglij, "came into being through our personal frustration with rampant consumerism and all the contradictions of living in modern civilization."
Per Fox Searchlight, co-writers Batmanglij and Marling found inspiration for their thriller after going off the grid on a "freegan" walkabout one summer, hopping trains and sleeping on the street and dumpster diving for food:
"We had read about 'Buy Nothing Day' and tried it – there was something liberating about not buying anything for a day. So we thought we might try a buy nothing summer. We'd heard about the freegan movement – people desiring to live simpler, more community based lives. We wanted to know what that was like first hand," says Marling.
"Going weeks without spending a dollar is an amazing feeling," the director says. "Everyone should try it. We didn't see movies. We weren't listening to recorded music. Everything was happening organically from the group. The spin-the-bottle game in the film came from an experience we had. Thursday nights that was what we did as a way of entertaining ourselves."
There were aspects of the transient life that took some getting used to, admits Marling. "I was a bit repelled at first about things like getting into a dumpster to look for food. But like Sarah, we learned there are packages of bread that have been thrown away because they're past their sell-by date, but nothing is wrong with them. Much of our culture's 'waste' is actually bounty. We slept 20 people to a room in sleeping bags on the floor. There were no showers, but after a while you learn your hair begins to clean itself."
I love Marling's ballsiness. I have doubts about her hair maintenance tips. (But seriously, she has amazing hair, so...)
Read more from the Sundance Film Festival:
SUNDANCE: 'Two Mothers,' Two Secret Affairs And Uncomfortable Laughter
SUNDANCE: Mother Pus Bucket! Michael Cera's Not Sure He'd Take A 'Ghostbusters 3' Gig
SUNDANCE: Directors Tease 'Computer Chess,' 'Spectacular Now,' 'Emanuel And The Truth About Fishes,' 'Salma,' And 'Blackfish'
Follow Jen Yamato on Twitter.
Follow Movieline on Twitter.