Oscar Campaign Playbook? Jennifer Lawrence Shows Off Comedic Chops In 'SNL' Promos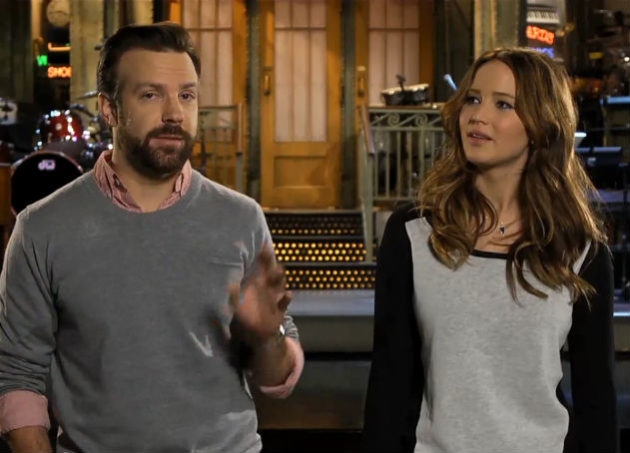 Jennifer Lawrence hasn't had many opportunities to show off her comedic chops onscreen — she only burst onto the scene three years ago in Winter's Bone, then quickly filled up her dance card with action blockbusters like X-Men: First Class and The Hunger Games before taking on the awards season contender Silver Linings Playbook — but the Best Actress front-runner has been delighting awards-watchers left and right on the Oscar circuit these past few months. The girl is funny — sardonic, whip-smart, witty, self-deprecating, and she knows what's what as she plays the Hollywood game, which is why her post-Golden Globes hosting gig on Saturday Night Live will be one to watch.


The promo bits are hit and miss — spoofing awards season with Jason Sudeikis, Lawrence at least nails the giddy awkwardness of getting up on that podium only to be played off by the orchestra, amirite Daniel Day-Lewis? — but it's promising enough just to see her mugging for the laughs. Here's hoping once that Silver Linings Oscar is on her mantle she'll tackle some comedies. Actual real comedies that grown-ups might want to watch! Now there's an idea.
The SNL gig also cements Lawrence as the popular favorite in her race, although I'd totally watch Emmanuelle Riva and Quvenzhané Wallis tag-team an SNL co-hosting gig. Think bigger next time, guys.
[via NBC]
Follow Jen Yamato on Twitter.
Follow Movieline on Twitter.