Yep, 'The Canyons' Looks Pretty Terrible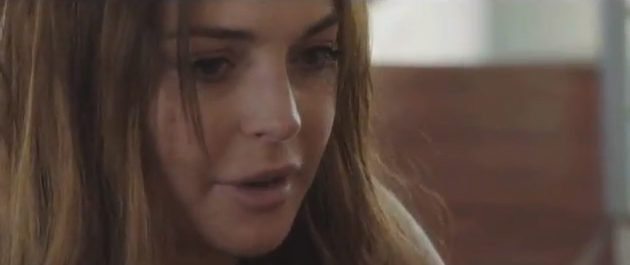 I so wanted to be pleasantly shocked by The Canyons, the Paul Schrader-directed erotic L.A. noir starring wannabe comeback queen (and documented on-set terror, per that glorious NYT profile) Lindsay Lohan. The tongue-in-cheek trailer held some distant promise, although it was notably absent any extended look at the acting by LiLo and co-star/porn hunk James Deen, but now we've got three full unbroken minutes of The Canyons and, well, that comeback train's going to be delayed at the station... if not completely derailed off the tracks in a fiery blaze.

Where to begin?
- "This can't be my phone?!"
- Lohan waking in full make-up, as you do
- James Deen's "sleeping" performance
- That water bottle catch. Phew!
- Christian's entirely nonsensical plan to hide his girlfriend's phone, then replace it with a duplicate phone, but keep it by his bedside Ikea table with the ringer on
- The cringe-worthy domestic assault documented thusly in even more cringe-worthy fashion in the Times piece:
Deen came to life; throwing the negligée-wearing Lohan hard to the ground and pounding his fist into a wall with such fury I wondered if he had broken his hand. Lohan lay slumped on the floor, her hands guarding her face, shoulders shaking, tears pouring down her cheeks. Between takes, she listened to Ryan Adams's cover of "Wonderwall." After three shots, Schrader said he was satisfied, and Lohan fumbled for a cigarette. She headed downstairs, and someone complimented her work.

"Well, I've got a lot of experience with that from my dad."
Yeesh. So much to digest in just under three minutes. Can't wait for the whole thing!
[via The Film Stage]
MORE ON THE CANYONS:
What People Are Missing In The NY Times Story On Lindsay Lohan
WATCH: Lindsay Lohan & James Deen Get Retro Canyons Teaser
Follow Jen Yamato on Twitter.
Follow Movieline on Twitter.