'Austenland' Director's Note: Jerusha Hess On Her 'Girlishly Indulgent' Sundance Rom-Com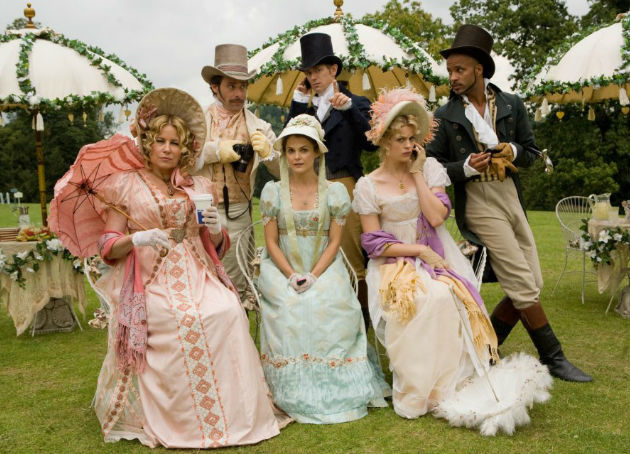 Nine years after Napoleon Dynamite made Sundance darlings out of its makers, screenwriter Jerusha Hess is set to make her directorial debut with the femme-centric comedy Austenland, adapted from Shannon Hale's best-seller about a Jane Austen obsessee on holiday at a resort where the Regency authoress is venerated like a goddess.

Austenland stars Keri Russell, JJ Feild, Jennifer Coolidge, Jane Seymour, and Bret McKenzie, but there's even more star power behind the scenes in the form of producer Stephenie Meyer (The Twilight Saga). Meyer, who served as producer on the final films in the Twilight franchise, Breaking Dawn Parts 1 & 2, as well as the adaptation of her novel The Host, co-created her Fickle Fish Films shingle to create literary-themed projects, beginning with Austenland.
Ahead of Austenland's Sundance premiere this Friday, Hess released a director's note emphasizing her focus on a female audience after scripting the goofy male comedies Napoleon Dynamite, Nacho Libre, and Gentlemen Broncos — "[our] most testicular film to date":
I remember thinking after my husband and I finished Gentlemen Broncos, our weirdest and most testicular film to date, that I really needed to start making movies for girls.

Cut to a dinner meeting with author Shannon Hale. She was smart and funny and handed me a book she had recently published, Austenland. I read it in an evening and we started writing the screenplay within the month. The book was so fresh and read like a film; it was a joy to adapt it for the screen and write it with Shannon.

Since the romantic element in the book was always strong, my goal was to make the film as quirky and light as possible. The result is a ridiculous romp in Regency culture – commenting not only on the historical time but also on the Jane Austen film genre itself. Although the film gently pokes at the Austen "afficianado" it never intends to alienate the fans, rather to celebrate the fun and funny of it all.

Austenland was as girlishly indulgent to make as I hope it is for you to watch. Enjoy.
Synopsis:
Austenland is a romantic comedy about 30-something, single Jane Hayes (Keri Russell), a seemingly normal young woman with a secret: her obsession with all things Jane Austen. But when she decides to spend her life savings on a trip to an English resort catering to Austen – crazed women, Jane's fantasties of meeting the perfect Regency-era gentleman suddenly become more real than she ever could have imagined. Based on the novel by Shannon Hale (who also co-wrote the script), the film was written and directed by Jerusha Hess (writer, Napoleon Dynamite) and produced by Stephenie Meyer's Fickle Fish Films. The film features an all-star cast including Bret McKenzie, Georgia King, Jane Seymour, JJ Field and Jennifer Coolidge.
Follow Movieline's Sundance 2013 coverage here.
Follow Jen Yamato on Twitter.
Follow Movieline on Twitter.