Sundance Debuts 13 Films Across Platforms Through Its 'Artists Services'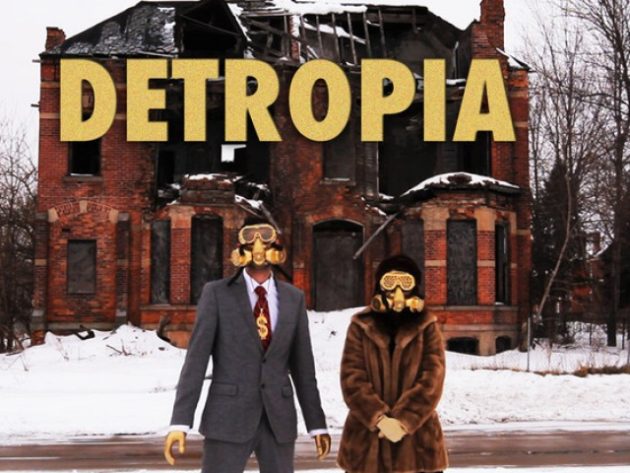 Even as it gears up for the launch of the Sundance Film Festival Thursday, the Sundance Institute unveiled 13 titles it is making available through a variety of platforms through its "Artist Services" program. Films include 2012 Sundance Film Festival titles Detropia, I Am Not A Hipster, The Atomic States of America and We're Not Broke. Artist Services films are available on an array of online platforms including iTunes, Amazon Instant Video, Hulu, SnagFilms, Netflix, SundanceNOW, VUDU, YouTube and more.

"With the proliferation of new digital outlets these days, Sundance Institute saw a real need to help filmmakers and producers easily access these platforms and to provide  information on how best to navigate and take advantage of independent distribution," commented Keri Putnam, Executive Director, Sundance Institute in a statement. "It's exciting to see these filmmakers charting their own path towards finding audiences."
Sundance titles available starting January 15th:
The American Astronaut (Director and Screenwriter: Cory McAbee) — Sundance Institute Screenwriter's Lab Fellow Cory McAbee stars in his sci-fi feature film as an interplanetary trader. The film also stars 2012 Independent Spirit Award nominee James Ransone (Starlet, HBO's Treme and The Wire) as Bodysuit. (2001 Sundance Film Festival)    
 
The Atomic States of America (Directors: Don Argott and Sheena M. Joyce) — Don Argott and Sheena M. Joyce's provocative documentary takes viewers on a journey to nuclear reactor communities across the country. (2012 Sundance Film Festival)
Budrus (Director: Julia Bachas) — Documentary filmmaker Julia Bacha's award-winning 2009 documentary follows a Palestinian community organizer who unites local Fatah and Hamas members along with Israeli supporters in an unarmed movement to save the village of Budrus from destruction by Israel's Separation Barrier. Budrus was produced by Just Vision, a nonprofit dedicated to increasing the power and  legitimacy of Palestinians and Israelis working nonviolently to end the occupation and  resolve the conflict. (2009 Sundance Documentary Film Grant)
Detropia (Directors: Heidi Ewing and Rachel Grady) — Winner of the Best Documentary Editing Award at the 2012 Sundance Film Festival and nominated for Gotham and Cinema Eye awards, Detropia chronicles the lives of several Detroiters trying to survive and make sense of what is happening to their city – once an industrial utopia, now on the brink of bankruptcy.  (2012 Sundance Documentary Film Grant, 2012 Sundance Film Festival)
High School Record (Director and Screenwriter: Ben Wolfinsohn) — In Ben Wolfinsohn's semi-improvised 2005 "mock doc," four exceptionally awkward 17-year-olds struggle through their senior year as moments of humiliation and triumph are caught on tape in a documentary shot by fellow classmates at a performing arts high school. (2005 Sundance Film Festival)
I Am Not A Hipster (Director and Screenwriter: Destin Daniel Cretton) — Featuring music by indie electronic band, Canines, and a break-out performance by Dominic Bogart (Flash Forward), Cretton's music-focused drama premiered at sold-out screenings at the 2012 Sundance Film Festival. (2011 and 2012 Cinereach Project at Sundance Institute Grant, 2012 Sundance Film Festival)
Primer (Director and Screenwriter: Shane Carruth) — Shane Carruth's cult classic won the Grand Jury Prize and Alfred P. Sloan Prize at the 2004 Sundance Film Festival. Timed to the premiere of the director's much-anticipated follow-up film, Upstream Color, at the 2013 Sundance Film Festival. (2004 Sundance Film Festival)
Pursuit of Loneliness (Director and Screenwriter: Laurence Thrush) — Award-winning director Laurence Thrush's (Left Handed) 2012 Sundance Film Festival premiere stars a cast of non-professional actors depicted in their own workplace roles. (2012 Sundance Film Festival)
The Slaughter Rule (Directors: Alex Smith and Andrew Smith) — David Morse (Treme) and Ryan Gosling (Drive) star in Alex and Andrew Smith's feature writing-directorial debut about a fatherless high-school quarterback. Nominated for the Independent Spirit Awards' John Cassavetes Award.. (2002 Sundance Film Festival)
Stingray Sam (Director and screenwriter: Cory McAbee) — Cory McAbee's 2009 follow up to The American Astronaut features writer-director McAbee as Stingray Sam and "Crugie" as The Quasar Kid, two space convicts in a series of episodic adventures narrated by David Hyde Pierce (Frasier). (2009 Sundance Film Festival)
to.get.her (Director and screenwriter: Erica Dunton) — Five teenage girls with a shared secret get together for a weekend of "no consequences" in this 2011 Sundance Film Festival premiere that won the Best of NEXT Audience Award. Actress-model Jazzy De Lisser stars in a "mystery" written and directed by Erica Dunton (The 27 Club). (2011 Sundance Film Festival)
Wave Twisters (Directors: Eric Henry and Syd Garon) — Animators Syd Garon (Superheroes, Last Call at the Oasis) and Eric Henry's "turntablism-based musical" won the 2001 Midnight Films Audience Award at the 2001 SXSW Film Festival. Scripted to a recording by "scratch" artist DJ Qbert, Wave Twisters follows a group of heroes traveling through inner-space on a quest to save the lost art of Hip Hop. (2001 Sundance Film Festival)
We're Not Broke (Directors: Karin Hayes and Victoria Bruce) — A timely exposé on how the government has allowed U.S. corporations to avoid paying taxes, and the growing wave of discontent that is has fostered. A 2012 Sundance Film Festival premiere from the filmmakers of The Kidnapping of Ingrid Betancourt. (2012 Sundance Film Festival)