Metallica Movie Heads To Theaters Via Resurrected Picturehouse Founder Bob Berney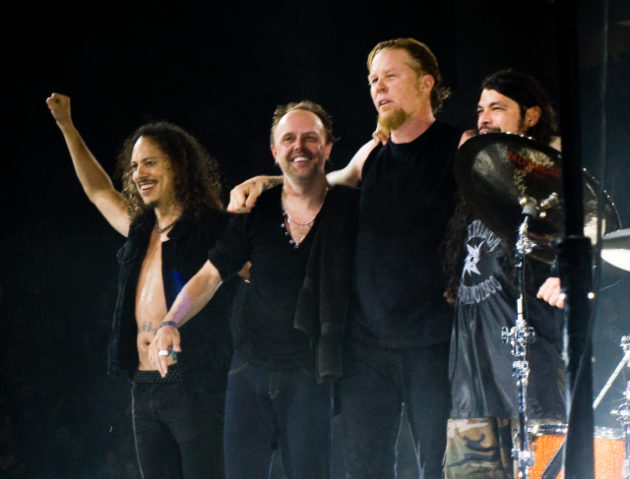 The headline for moviegoers here is that the new feature Metallica Through the Never is headed to theaters. What is more significant is how it will get there. Longtime distribution figure Bob Berney is resurrecting a label he once headed, Picturehouse, to serve as CEO, while a veteran in the filmmaking scene in her own right, Jeanne Berney, will serve as president of the label, which will be based in New York.

Metallica Through the Never stars members of the band as well as Dane DeHaan (The Amazing Spider-Man 2) who plays a young band crew member. He is sent out on an urgent mission while the band is playing a live set in front of a sold-out crown and unexpectedly finds his world turned completely upside down. The re-fashioned Picturehouse will open the film August 9th.
"Metallica's way of doing things is to jump into unexplored creative endeavors with no safety net whatsoever," said Metallica drummer Lars Ulrich. "Putting this movie together for the last couple of years has been a pretty wild ride, and we've definitely done our share of flying without a net!  Bringing Bob and Jeanne and the new Picturehouse team in at this point provides us with a much needed level of security for the distribution of the film. Their spirit of independence and desire to work outside the box is something we can relate to in every way, and this makes them both a welcome addition and a natural fit in the Metallica family."


The new Picturehouse plans to acquire, market and theatrically release independent films from the U.S. and around the world, beginning with two to three films this year and increasing its output to four to five features in 2014 and six or seven in subsequent years it said Tuesday.
Bob Berney helped launch the original Picturehouse in April 2005 as a joint venture between Time Warner's HBO and New Line Cinema divisions. During that tenure, the company released Guilermo del Toro's Pan's Labyrinth which won three Oscars; Olivier Dahan's La Vie en Rose (winner of two Academy Awards, including best actress for Marion Cotillard); Sergei Bodrov's Mongol; Patricia Rozema's Kit Kittredge: An American Girl; Robert Altman's A Prairie Home Companion; and Seth Gordon's documentary The King of Kong: A Fistful of Quarters.
Time Warner later folded Picturehouse and New Line into the general Warner Bros. operations and the brand continued to live in the home entertainment and television releases of its films.
Most recently Berney co-founded and served as president of theatrical distribution of FilmDistrict, overseeing the roll outs of Insidious, Soul Surfer, Don't Be Afraid Of The Dark and Drive. Prior to Picturehouse he worked at IFC Films, where he acquired and oversaw the release of films including the $240-million surprise hit My Big Fat Greek Wedding and Y Tu Mamá También. Later he served as president and partner of Newmarket Films, releasing features including Mel Gibson's $370 million-grossing The Passion of the Christ as well as Monster, which earned Charlize Theron the Best Actress Academy Award; and Whale Rider, a little-known Toronto International Film Festival find that also received a Best Actress nomination. Newmarket sold its distribution operation to Time Warner as part of the formation of Picturehouse.
Entertainment marketing veteran Jeanne Berney most recently served as Executive Vice President of Marketing at FilmDistrict. Before that, she was Executive Vice President of Marketing and Administration for Apparition. Jeanne Berney also served as Director of Public Relations and Marketing at the Film Society of Lincoln Center, where she was responsible for the campaigns for all of the Society's year-round programs.