James Franco, Michael Winterbottom, Jane Campion & More Head To Berlin International Film Festival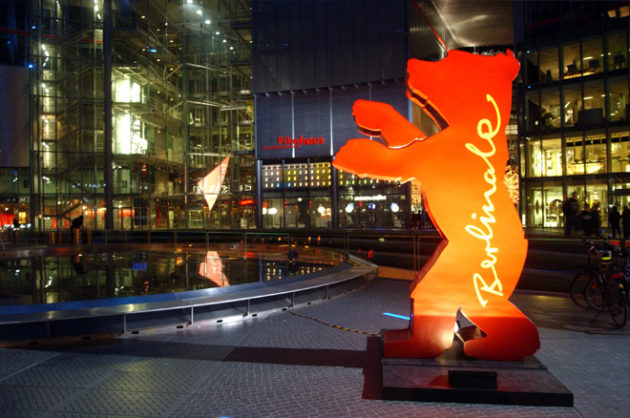 The Berlin International Film Festival continues to roll-out its program for its February event, adding new titles to its Panorama and other sections. Many of the titles will debut as world and international premieres, with some titles headed to the festival post-Sundance. New work from the U.S. include Travis Mathews and James Franco's Interior. Leather Bar, Stacie Passon's Concussion, Shane Carruth's Upstream Color as well as new work from Ken Loach and Jane Campion.

Michael Winterbottom's The Look of Love and Tom Hooper's Les Misérables are among the Galas added in addition to titles in the festival's Panorama and Berlinale Special screenings.
The Berlin International Film Festival's added titles:
Panorama fictional films:
Boven is het stil (It's All So Quiet) - Netherlands/Germany, By Nanouk Leopold with Jeroen Willems, Henri Garcin, Wim Opbrouck, Martijn Lakemeier World Premiere
Concussion - USA
By Stacie Passon with Robin Weigert, Maggie Siff, Emily Kinney, Daniel London, Ben Shenkman, International Premiere
Flores Raras (Reaching for the Moon AKA: The Art of Loosing) - Brazil
By Bruno Barreto, with Miranda Otto, Gloria Pires, Tracy Middendorf, World Premiere
Hayatboyu (Lifelong) - Germany
By Asli Ozge with Defne Halman, Hakan Çimenser World Premiere
Interior. Leather Bar. - USA
By Travis Mathews, James Franco with Val Lauren, Christian Patrick, James Franco, International Premiere
Kai PO Che - India
By Abhishek Kapoor with Sushant Singh Rajput, Raj Kumar, Amit Sadh, Amrita Puri, World Premiere
Burn it up Djassa - Ivory Coast/France
By Lonesome Solo with Abdoul Karim Konaté, Adelaïde Ouattara, Mamadou Diomandé, Souleymane Bamba, European Premiere
Lose Your Head - Germany
By Stefan Westerwelle, Patrick Schuckmann with Fernando Tielve, Marko Mandić, Sesede Terziyan, Stavros Yagulis, Samia Chancrin, World Premiere
Maladies - USA
By Carter with James Franco, Catherine Keener, David Strathairn, Fallon Goodson, Vince Jolivette, World Premiere
Mes séances de lutte - France
By Jacques Doillon with Sara Forestier, James Thiérrée
World Premiere
Soğuk (Cold) - Turkey
By Uğur Yücel with Cenk Alibeyoğlu, A. Rıfat Şungar, Valeria Skorohodova, Yulia Vaniukova, Yulia Erenler, Şebnem Bozoklu, Ezgi Mola, World Premiere
Something in the Way - Indonesia
By Teddy Soeriaatmadja with Reza Rahadian, Ratu Felisha, Verdi Solaiman, World Premiere
Upstream Color - USA
By Shane Carruth with Amy Seimetz, Shane Carruth, Andrew Sensenig, Thiago Martins, Kathy Carruth International Premiere
Will You Still Love Me Tomorrow? - Taiwan
By Arvin Chen with Richie Jen, Mavis Fan, Stone, Kimi Hsia, Lawrence Ko, World Premiere
Workers - Mexico/Germany
By José Luis Valle González with Susana Salazar, Jesús Padilla, World Premiere
Youth - Israel/Germany
By Tom Shoval with Eitan Cunio, David Cunio, Moshe Ivgy, Gita Amely, Shirili Deshe, World Premiere
Berlinale Special Galas at the Friedrichstadt-Palast
The Best Offer Italy 
By Giuseppe Tornatore (Cinema Paradiso, Malèna, Baarìa)
With Geoffrey Rush, Jim Sturgess, Sylvia Hoeks, Donald Sutherland
International Premiere
The Look of Love, Great Britain
 By Michael Winterbottom (In This World, The Road to Guantanamo, 24 Hour Party People) 
With Steve Coogan, Anna Friel, Imogen Poots, Tamsin Egerton
European Premiere
Les Misérables  Great Britain
 By Tom Hooper (The King's Speech)
With Hugh Jackman, Russell Crowe, Anne Hathaway, Amanda Seyfried, Eddie Redmayne, Aaron Tveit, Samantha Barks, Helena Bonham Carter, Sacha Baron Cohen
German Premiere
Tokyo Kazoku (Tokyo Family) Japan 
By Yoji Yamada (About Her Brother, KABEI - Our Mother, The Twilight Samurai)
With Isao Hashizume, Kazuko Yoshiyuki, Satoshi Tsumabuki, Yu Aoi, Yui Natsukawa, Masahiko Nishimura, Tomoko Nakajima, Shozo Hayashiya
International Premiere
 
Panorama special screening - Heiner Carow Prize
Die Legende von Paul und Paula (The Legend of Paul and Paula) - Germany, By Heiner Carow
Panorama short supporting films:
After Hours - Germany, By Steffen Köhn, World Premiere
Jury - Republic of Korea, By Kim Dongho with Ahn Sung-ki, Kang Soo-yeon, Jung In-ki, Tony Rayns, International Premiere
Two Girls Against the Rain - Cambodia, By Sao Sopheak, European Premiere
Fictional films previously announced:
Baek Ya (White Night) by Hee-il LeeSong, Republic of Korea - European Premiere
Behind the Camera by E J-Yong, Republic of Korea - International Premiere
Chemi sabnis naketsi (A Fold in my Blanket) by Zaza Rusadze, Georgia - World Premiere
Deshora (Belated) by Barbara Sarasola-Day, Argentina/Columbia/Norway -World Premiere
Don Jon's Addiction by Joseph Gordon-Levitt, USA -International Premiere
Frances Ha by Noah Baumbach, USA - European Premiere
Habi, la extranjera (Habi, the Foreigner) by María Florencia Alvarez, Argentina/Brazil - World Premiere
Inch'Allah by Anaïs Barbeau-Lavalette, Canada - International Premiere
Kashi-ggot (Fatal) by Don-ku Lee, Republic of Korea - European Premiere
La Piscina (The Swimming Pool) by Carlos Machado Quintela, Cuba/Venezuela - International Premiere
Lovelace by Rob Epstein, Jeffrey Friedman, USA - International Premiere
Meine Schwestern (My Sisters) by Lars Kraume, Germany - World Premiere
Rock the Casbah by Yariv Horowitz, Israel - International Premiere
Tanta Agua (So Much Water) by Ana Guevara Pose, Leticia Jorge Romero, Uruguay/Mexico/Netherlands/Germany - World Premiere
The Broken Circle Breakdown by Felix van Groeningen, Belgium - International Premiere
 

Berlinale Special at the Haus der Berliner Festspiele
 
Assistance Mortelle (Fatal Assistance) - documentary France/Haiti/USA/Belgium
By Raoul Peck (Moloch Tropical), World Premiere
Gold – Du kannst mehr als Du denkst (Gold – You Can Do More Than You Think) - documentary 
Germany, by Michael Hammon, World Premiere
Mein Weg nach Olympia (My Way to Olympia) - documentary
, Germany, by Niko von Glasow, World Premiere
Top of the Lake 
Australia/New Zealand
 By Jane Campion (An Angel at My Table, The Piano, Bright Star), Garth Davis (Alice) 
TV series with Elisabeth Moss, David Wenham, Peter Mullan, Holly Hunter, European Premiere
The Spirit of '45 – documentary, 
Great Britain, by Ken Loach (The Wind that Shakes the Barley, Looking for Eric, The Angels' Share)
World Premiere
Unter Menschen (Redemption Impossible) - documentary
Germany, by Christian Rost, Claus Strigel, World Premiere
Berlinale Special at the Bundesplatz-Kino:
 
Berlin Ecke Bundesplatz – Bäckerei im Kiez  
Germany, by Hans-Georg Ullrich, Detlef Gumm, World Premiere
 
Berlin Ecke Bundesplatz – Feine Leute 
Germany, by Hans-Georg Ullrich, Detlef Gumm, World Premiere
 
Berlin Ecke Bundesplatz – Schornsteinfegerglück 
Germany, by Hans-Georg Ullrich, Detlef Gumm, World Premiere
 
Berlin Ecke Bundesplatz – Vater Mutter Kind 
Germany, by Hans-Georg Ullrich, Detlef Gumm, World Premiere