Sundance '13 Poster Debut: 'Halley' By Sebastian Hofmann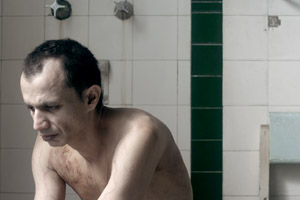 With just one week to go until the 2013 Sundance Film Festival kicks off next Thursday, images are trickling in of the many films to debut. Beginning next week, M.L. will begin publishing short interviews with this year's Competition and NEXT section filmmakers. But to whet that Sundance whistle, here is a poster debut for Halley, directed by Sebastian Hofmann.

[Related: Sundance Film Festival Unveils Star-Studded Premieres & Documentary Premieres Lineup]
Screening in the festival's New Frontiers section, insiders noted it plays more like a genre pic, from the producer of Post Tenebras Lux. The film centers on Alberto who is decomposing and can no longer hide it, so he decides to withdraw from the world. Before yielding to his living death, Alberto forms an unusual friendship with Silvia, the manager of the gym where he works as a guard.
Sebastian Hofmann's Director's statement follows (with Poster Below):
Halley is an essay on the anguish experienced when the illusion of control over our bodies disappears. It is a contemporary gothic story that casts a compassionate look at the life of a zombie; a helpless witness to the decomposition of his own body. Alberto's condition offers a reflection of our mortality and the solitude of decay.

Halley seeks to reassert the temporality of our bodies in a culture engaged in its collective denial. By means of fictional infomercials, and the gym culture Alberto lives in, the film will explore how we conceal the frailty of our condition as living beings underneath a pathological idealization of beauty. We will see human beings running, though never escaping, the more disquieting facts of their existence.

Halley is the name of the famous comet which orbits the sun every 75 years; the only short-period comet plainly visible from Earth. Records of its existence can be found in Ancient Greek and Chinese writings. Halley has been an enduring witness of our cyclical history. The time that spans each of its visits is the average length of a human life.