'Les Misérables''s Tom Hooper Talks Anne Hathaway's 'Dark Place' In Palm Springs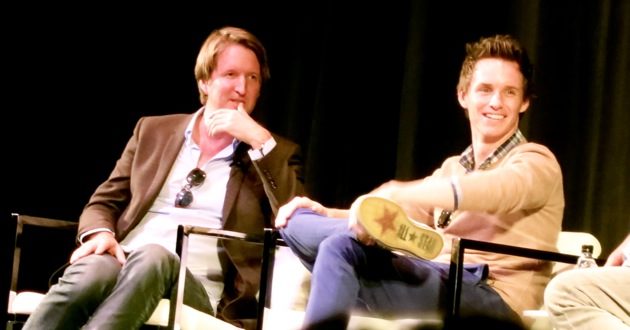 Les Misérables director Tom Hooper may have been bypassed with a nomination Wednesday by the British Film Academy for Best Director (though the film itself received nine nominations), but at the Palm Springs International Film Festival this week, he received the event's Sonny Bono Visionary Award at a celeb-filled event that included Naomi Watts, Bradley Cooper, Helen Mirren, Sally Field and Ben Affleck. At the festival, Hooper talked about the creation of Les Misérables, why the story made him cry and the "dark box" Anne Hathaway traveled to as she took on the role of Fantine.

[Related: Tom Hooper Defends His 'Les Misérables ' Close-Ups & Reveals Who's The Bigger Musical Geek: Jackman or Hathaway]
Les Misérables became the quickest musical to top out over $100 million last weekend and it has factored heavily on the Awards Circuit this year. The Victor Hugo novel had been on Hooper's mind even before The King's Speech won Best Film and Best Director two years ago, saying he hoped the emotional impact he experienced with audiences on that film would translate in his next feature.
"I was overwhelmed with how much emotion The King's Speech was greeted with when I traveled with it around the world and I wanted to find material that would keep that emotion going and even take it further and Les Misérables is famous for creating that feel," said Hooper. "And I thought it would be possible to make it a more intense emotional experience for the audience."
Hooper, who spoke with Deadlin.com's Pete Hammond following a screening of the film at the Palm Springs International Film Festival, showed his lighter side before a full audience, saying that he had wept after first seeing Les Misérables after seeing the lead character, Jean Valjean (played in the on-screen version by Hugh Jackman) die.
"I was weeping and I thought about why I was weeping," said Hooper. "And it was because I thought about the day my own father will die. And then I thought about something my own father said to me, which was that he said as he gets older he wants to master 'the art of dying well.'
Continuing he added, "I really thought about that and thought about that last act of grace. This film really does look death square in the face. For Jean Val Jean, it's all about love…And he dies having done the ultimate obligation of finding love for her and in that moment we feel he has transcended death and that's the ultimate message of the movie."
Hooper said he auditioned every actor in the film from "Hugh Jackman, Russell Crowe on down" because he was committed to doing Les Misérables live. He praised Jackman's ability to "communicate through song," which Hooper said was magical.
"The Hugh Jackman audition took place last May in New York and it was an extraordinary three hours," said Hooper. "When Hugh sings, he's so comfortable communicating through song that you don't want to hear him speak. Hearing him sing was the best place to be… The other thing I noticed was that Hugh had an emotional side to himself that I had never seen before."
Hooper said he wanted Les Misérables sung live to allow his actors leeway to own their characters and their emotions, adding that the decision was important in portraying the feature's characters. "Great acting is about being in control of the medium at the time. Because great acting is about you being the author or creator of the dialog or songs you were given to play and to sell that illusion you're inventing and the joy of doing it live allows you create the moment of invention."
Hooper noted Anne Hathaway's lauded performance in the seminal number, "I Dreamed A Dream" as an example of how the live performance gave Hathaway, in this case, flexibility.
"In 'I Dreamed A Dream,' Annie sings and then there's a long pause, and then says, 'But it all went wrong.' In that pause, she's communicating everything that happened to her: How she's been raped, how she had her hair cut and everything that's gone wrong with her life. In musical terms that should have been a moment, but Annie takes ten seconds and earns that moment."
Hooper noted that Hathaway told him after performing the song that she had mentally traveled to a dark space, saying the actress said, "Tom I opened the lid of a box I lived inside and closed that lid and I hope I never go inside that box again."
[Tom Hooper and actor Eddie Redmayne at the Palm Springs International Film Festival. Photo by Brian Brooks]