Soderbergh's Liberace Pic 'Behind The Candelabra': What's 'Too Gay' for Hollywood?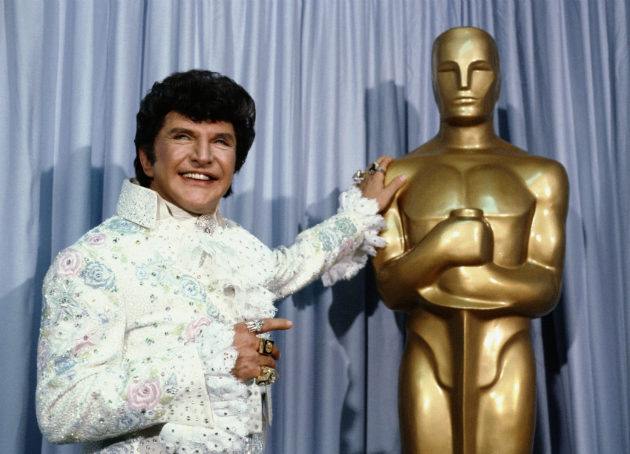 Steven Soderbergh has pushed against the limits of Hollywood's sexual mores his entire career. His debut, sex, lies, and videotape, was a study in voyeurism and sexual dysfunction. He blurred the line dividing the feature film and porn video worlds with The Girlfriend Experience, which starred adult actress Sasha Grey. His last film, Magic Mike, subverted the male gaze by turning all eyes, male and female, on the rock-hard and very hairless abs of dude-strippers. Yet even Soderbergh has had trouble financing his next and rumored-to-be-last project, Behind the Candelabra, a biopic of Liberace starring Michael Douglas as the flamboyant pianist and Matt Damon as his significantly younger live-in lover.

The veteran director only wanted $5 million to make his long-delayed film, but, as he told The Wrap, "They said it was too gay. Everybody. This was after Brokeback Mountain, by the way. Which is not as funny as this movie. I was stunned. It made no sense to any of us."
Luckily for Soderbergh, HBO believed enough in the project to greenlight it. But that still leaves the question: What does "too gay" mean in the Hollywood of 2013?
Sadly, it doesn't seem too different from what it meant fifty years ago in the Hollywood of 1963: Few gay protagonists can be normal, relatable people living in a world we recognize. In the real world, gay men and women are our friends, family, neighbors, and co-workers. But in the movies, that might be "too gay."
So screenwriters have come up with a multitude of ways to make homosexuality less immediate and less "threatening." When they are the protagonists, gay characters vanish from everyday life: by dying, by disappearing into history, by rarely having sex, by committing evil, by being more flamboyant than pink rhinestones on a drag queen's tiara. They may be admirable, certainly sympathizable, but they still too frequently lack ordinary humanity.
The supposed breakthrough film Brokeback Mountain, for instance, marginalized homosexuality by situating its characters in a faraway setting and in a culture that was on the cusp of disappearance. And it fatally asserted its heterosexuality by having straight actors play gay, so that audiences never forget that a man kissing another man is all just play-acting.
Little seems to have changed since Brokeback. The majority of studio movies with a gay male protagonist since has either taken place in Mad Men days (Milk, Howl, A Single Man) or featured same-sex sociopaths (I Love You Philip Morris, Bruno). It's no better for lesbians, who watched one of their filmic counterparts in The Kids Are All Right have sex with a man, because of course that's exactly what the female gay experience is all about. Equally alien to the lives of average gay women is the romance Jack and Diane, which finds one of its two budding lovers turning into a werewolf. And, it bears repeating, all of the main characters in these movies are played by straight actors.
Luckily for gay viewers, the indie world is brimming with movies that are "too gay" and proud of it. The last two years alone have seen critical darlings like the sweet romance Weekend, the addiction drama Keep the Lights On, and the gay adoption saga Any Day Now. Also welcome and necessary are the coming-of-age tale Pariah and the Sex and the City-style Noah's Arc, which feature all-too-rare gay characters of color.
It's almost surprising that Soderbergh's biopic got the "too gay" chuck, since the subject matter – a mincing narcissist with a love of glittered capes and a barely legal pool-boy dying tragically from AIDS – is brimming with the usual defenses Hollywood is always eager to employ against normal gay existence. So one has to wonder if it isn't the flamboyance that studios found "too gay," but Soderbergh's refusal to turn Liberace and his partner Scott Thorson into caricatures, to "take the relationship seriously." After all, that might be too revolutionary for Hollywood. Maybe in 2063?
Inkoo Kang is a film critic and investigative journalist in Boston. She has been published in Indiewire, Boxoffice Magazine, Yahoo! Movies, Pop Matters, Screen Junkies, and MuckRock. Her great dream in life is to direct a remake of All About Eve with an all-dog cast.
Follow Movieline on Twitter.