The Time Joel Silver Destroyed A $5K Couch During The Filming Of 'Die Hard'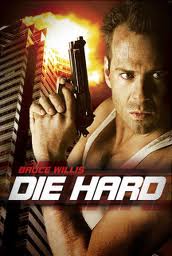 We all know producers can be a bunch of real, ah, prickly people. They kind of have to be, since their job, so long as it's their actual job and not just a title given to them because they invested a couple of mil into the production, is to make sure everything goes smoothly, the film stays within budget, and the money isn't wasted on limos when it could be wasted instead on expensive CG effects that look completely dated within 3 years*. As a result, these guys tend to be blunt as hell and not afraid to hurt some mothaf*ckin' feelings when they rolling deep through the movie hood, as it were.

Take Joel Silver, the famously take-no-prisoners producer of the Lethal Weapon and Die Hard films.** Screenwriter Doug Richardson, the guy who Wrote Die Hard 2: Die Harder, and Bad Boys, has shared a story from the making of Die Hard over on his official site, and it's a most triumphant example of producer due diligence at the expense of expensive furniture you'll ever hear.
Remember the scene in Die Hard when the roof of Nakatomi Plaza explodes, and the penthouse lobby and fountain area is completely trashed? You might have noticed there's an expensive looking couch in that scene; You might have also noticed that it appears to survive the initial explosion, only to show up seconds later completely aflame. There's a reason for that — the couch wasn't just expensive looking, it actually cost $5,000 back in 1988 which in today's money is about 5 trillion dollars.*** Apparently, the scene drew cheers and high fives from everyone on the crew after they pulled it off during the shoot; except for Silver that is, whose eagle-eyed penny-pinching powers detected something odd, or as Richardson puts it, "possible sabotage."  To set the scene for what happens next, you might want to find a copy of Who Framed Roger Rabbit and check out Silver's blustery cameo as the director of the Baby Herman cartoon.
Joel called for the entire crew to assemble on the nearly-demolished set, gathering the mob around a gorgeous, leather Roche-Bobois sofa.  Estimated value, five thousand dollars.  The couch, despite the conflagration that they'd all just witnessed, was in showroom condition.  Untouched by destructive fire, explosives, or water.

"I wanna know," Joel shouted, "Who just ruined my shot!"

You see, Joel had been around more than a few movie sets.  He knew how things worked.  He understood how the occasional underhanded crew member operated.  In this case, he suspected that one crew member had paid off another crew member on the special effects crew to make certain that the five-thousand-dollar sofa survived the wreckage.

"Somebody on this crew," announced Joel, "Decided to furnish their home at the expense of the movie."
Can you blame them though? I mean, this was the '80s, and we didn't have Ikea to make giant couches affordable yet.
With that, Joel produced a bottle of lighter fluid, doused the expensive sofa in accelerant, and tossed a match to it.  The lesson ended as the couch erupted in flame.  The set was cleared again.  And camera operators were ordered to "roll film."
Five grand must seem a trivial sum for a movie with a $28-million budget, but damned if you can't respect someone for making sure every dollar spent on the movie ended up onscreen. I just wonder if he hummed "Ode To Joy" while torching some lowly grip's living-room dreams.
No word from Richardson if similar hijinks happened during the making of Die Hard 2. Probably not, I mean, how many times can the same thing happen to the same guy?
* I kid, I kid!
** And a jillion others of course. He helped Walter Hill get The Warriors and Streets of Fire made!
*** I'm guessing this is the case based on the way people are freaking out about raising the minimum wage.
[Source: Movies.com]
Ross Lincoln is a LA-based freelance writer from Oklahoma with an unhealthy obsession with comics, movies, video games, ancient history, Gore Vidal, and wine.
Follow Ross Lincoln Twitter. 
Follow Movieline on Twitter.