David Cronenberg Talks 'Cosmopolis,' High Frame Rates, And 'Bullshit' Oscars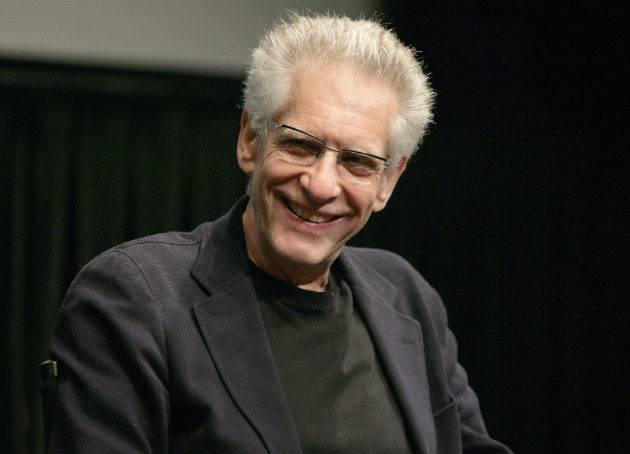 You're in a good spot, though, now. You're in the Woody Allen zone – you keep your budgets low, you get enough dough back in Europe, the people in the US that dig it dig it and then you make the next one.
That's true, and every time I've tried to play with the studios it's never worked out. I don't blame them or me, it's the mix of sensibilities is not there, we don't fit. Listen, I see some big movies and I think "Oh, it would be fun to make that, challenging." Then reality sets in and it's not going to happen. Your estimation of where I'm at with filmmaking is pretty accurate.
Cosmopolis is coming to Blu-ray and – OW! Oh, crap, the cat just jumped on me.
I like cats.
Yeah, he's adorable, but very heavy. Sorry, so... Cosmopolis on Blu-ray. Special deleted scenes on here?
I'm usually reluctant to include deleted scenes. They're deleted for a reason. I like the the magic. On A History of Violence I included one or two because they were unusual, but that's the only time I've done that. On the other hand, I really appreciate a good "making of" documentary. I find that film students and film fans who might otherwise never get on a film set might really see something if you, the creator, are honest. Of course, I'm not doing the "making of" myself — I'm too busy making the movie — but I do encourage the reality principle. I don't want the "making of" to just be a promotional spot. Similarly, when I do a commentary, as I've done for Cosmopolis, I don't bullshit. I don't just say how wonderful is to work with or how much fun we had at the wrap party. I talk about the making of that particular moment we're looking at.
Cosmopolis is all green or blue screen and interiors designed to look like exteriors, correct?
Yes. There were hybrid sets with street furniture, then beyond that was all green screen. It's amazing how convincing it is. For me, the best special effects are the ones that are invisible. I've created creatures, like for eXistenZ and other films, but mostly special effects are a wonderful tool for invisible things like that are very convincing that you couldn't have done before.
Have you seen the new High Frame Rate that Peter Jackson used for The Hobbit?
No, though you see it on television all the time. Sports shows are 60 frames. Those flawless slo-mo playbacks with no smearing. I haven't seen The Hobbit yet, but I do believe it would be nice to get away from 24 frames per second — even just to 30 frames per second. I don't have a nostalgic longing to stick with the smearing or strobing you get when you pan with a film camera. It's not nice. It comes from ancient technology that we don't need anymore. Even upping to 30 might get rid of that, I don't know why 48 as opposed to 50 or 60, frankly. In a weird way, 48, as double of 24, is still clinging to the old technology.
I believe Jackson said that he would have done 60 if he could, because James Cameron is talking 60 for the next Avatar, but when they were ready to go this is what was available. The thing that struck me, at least on The Hobbit, is how much you notice the artifice in other departments, the set construction, the makeup, the special effects.
This was a big fear with just HD on television. It's interesting, that there might be an increase in clarity, but to a fault.
Is your next project ready to go?
Finishing my novel right now, and I hope to be shooting Maps of the Stars in May, written by Bruce Wagner. However, it is an indie project which means, therefore, that it could fall apart.
Well, the novel is just you and the page, so you'll have no easy excuses there.
That's it. I'm hoping it is published at the end of next year.
Cosmopolis will be available on DVD and Blu-ray on January 1.
Follow Jordan Hoffman on Twitter.
Follow Movieline on Twitter.
Pages: 1 2