R.I.P. 'Thunderbirds' Creator Gerry Anderson Dead At 83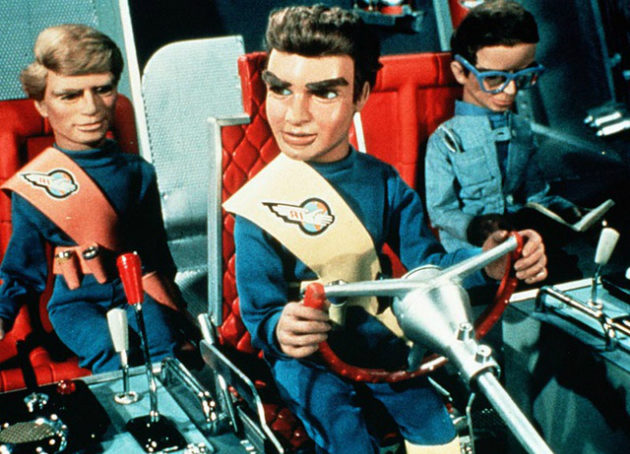 The man who nearly single-handedly made puppets cool has gone to see the great manipulator in the sky. Gerry Anderson, creator of the pioneering puppetry technique called 'Supermarionation' and the popular series Thunderbirds, died Wednesday in Oxfordshire, England, at the age of 83 from complications due to Alzheimer's disease. He is survived by four children, and by his third wife, Mary.

Born in London on April 14, 1929, Anderson's long career in television began in the 1950s, when he worked as a freelancer on numerous film and television productions. In 1957, he cofounded AP Films to produce the children's series The Adventures Of Twizzle, which featured Anderson's first use of extensive puppetry. This was followed by another series, Torchy The Battery Boy, in 1958, and finally Four Feather Fall in 1959, which was the first series to employ the technique for which he would become most well known.
Anderson's Supermarionation programs enjoyed considerable success during the 1960s (one of them was even picked up in the US by ABC), but it was the 1964-65 series Thunderbirds that made him world famous. The series focused on the Tracy family, adventurers who ran a high tech rescue service in the 21st century. It spawned two Supermarionation feature films, Thunderbirds Are Go! and Thunderbirds 6, as well as a 2004 live action film which flopped. Other Supermarionation productions included Supercar, Joe 90, The Secret Service, and Captain Scarlet and the Mysterons.
Supermarionation, which combines marionettes with complex wire work and motorized puppet faces, achieves the effect of presenting the puppets as independent actors. Though the technique fell out of favor as special effects improved during the 1970s, Supermarionation's influence can still be seen not only in films and TV shows that deliberately mimic it — like Trey Parker and Matt Stone's Team America: World Police (below) — but in the worldwide success of The Muppets and the films made by Jim Henson's Creature Shop in the 1980s.
Interestingly, Anderson never liked working with puppets, seeing his Supermarionation programs as a way of making it possible to transition to live action, which just goes to prove once and for all that you don't get to pick what you're great at.
Though Anderson transitioned to live action in the 1970s, with the exception of Space: 1999 his puppet-free productions never enjoyed the same level of fondness and influence. In recent years he produced a computer animated update of Captain Scarlet, and numerous aborted projects. He was awarded an MBE in 2001.
We'll be firing up Thunderbirds Are Go! in memorium.
Ross Lincoln is a LA-based freelance writer from Oklahoma with an unhealthy obsession with comics, movies, video games, ancient history, Gore Vidal, and wine. Follow him on twitter (@rossalincoln).
Follow Movieline on Twitter.