'This Is The End' Redband Trailer: Seth Rogen & Co. Will Help Us LOL Through The Apocalypse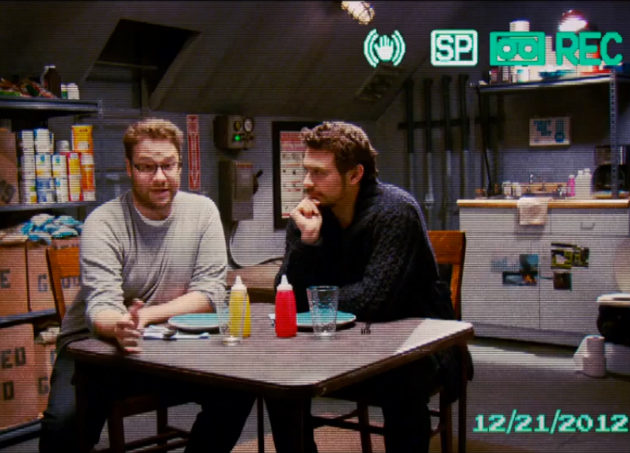 If you read World War Z, your favorite chapter might be the one where a bunch of insufferable celebrities move into a heavily fortified compound together to ride out the zombie apocalypse in high style. Given that they're all basically awful people, things don't go so well and they all die. Alas, Mark Forster's movie version probably won't include that moment, but Seth Rogen, Jay Baruchel and Pineapple Express team is giving us the next best thing, with This Is The End, a raunchy comedy that asks 'what would happen if almost everyone who works with Judd Apatow survived a worldwide apocalypse?' Well, not everyone (alas, poor Michael Cera,), but enough people to populate the next ten years of dude-oriented R-rated comedies.

The newly released red band trailer is gosh darned hilarious, especially Danny McBride critiquing his friends' ability to convincingly sell the end of the world to him. It's kind of like if every moment in Zombieland was the section with Bill Murray, or better yet, given the likelihood of an insane amount of cameos, more like the Cannonball Run of apocalypse movies. Yeah, in fact, the foreign language title needs to be Cannonball Apocalypse.
This trailer alone is funnier than every single FB update about the world ending that we're going to read tomorrow, guaranteed. This is the End will roll into theaters summer 2013 — that is, if we're all still here.
[via Yahoo!]
Ross Lincoln is a LA-based freelance writer from Oklahoma with an unhealthy obsession with comics, movies, video games, ancient history, Gore Vidal, and wine. Follow him on twitter (@rossalincoln).
Follow Movieline on Twitter.