[UPDATED] Ben Affleck For Senator? He And His Rep Aren't Denying It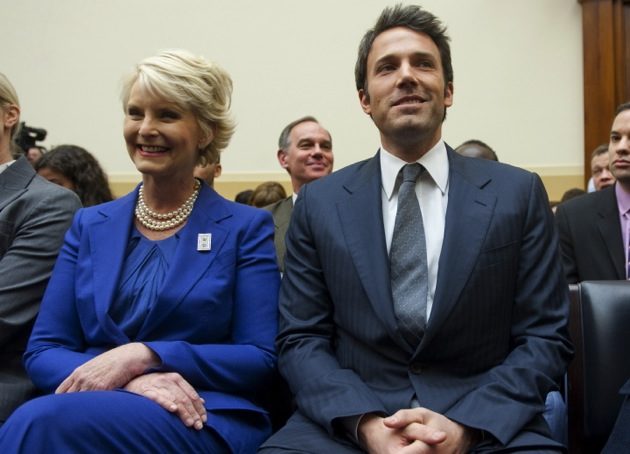 Ben Affleck  and his spokesman aren'texactly batting down a report that the Argo director's name has been floated for the Massachusetts Senate seat that Sen. John Kerry will vacate if President Obama chooses him to replace Hillary Clinton as Secretary of State.
[PHOTOS: Ben Affleck Goes To Washington, Testifies Before Congress]
Boston CBS station WBZ reported has reported that Massachusetts Democrats are seriously considering wooing  Affleck to run for the seat. Before you write this off as crazy, note that Affleck is a noted liberal who has demonstrated wide knowledge on a range of issues on multiple occasions (see his appearances on Real Time with Bill Maher and marvel). In fact, on Wednesday, Affleck testified at a House Armed Services Committee hearing about security issues in the Democratic Republic of the Congo. (He's the founder of the Eastern Congo Initiative and has spoken on the subject before. He's picture above with Cindy McCain at the hearing.)
According to the Daily Caller, Affleck met with Kerry during his visit to Capitol Hill.
There's also this to consider:  Affleck's publicist Shawn Sachs, who has worked with the actor for about five years,  isn't denying the report. When Movieline asked him to comment on the report, Sachs replied that he was with Affleck  "working on Congo efforts" and "That's all we're talking about today."
Affleck said essentially the same thing when Politico caught up with him in Washington. "That's not what I'm here to talk about....I'm here to talk about what role we can place in making the Eastern Congo a better place."
Will it actually happen? Probably not. Though Affleck wouldn't be stepping into the kind of minefield Ashley Judd would if her rumored interest in running for the Senate in Kentucky turns out to be real, the potential to be slandered as another Hollywood dilettante is high. You can bet there will be belittling Bennifer references in attack ads. There's also the fact that Affleck's career as a director shows no signs of decline. I could see him deciding to continue earning tremendous artistic respect rather than dragging his family, and his personal life, through the mud.
That said, letting this story gain more momentum will keep the media talking about Affleck and, by extension, Argo, which could be a very good thing for the movie's Oscar buzz.
I'm not a Massachusetts voter, but I can't deny I'd love to see Affleck go for it, if only to prove that Republican celebs aren't the only ones allowed to play 'Real American' for the plebeians. What about you, Movieline readers? Let us know what you think, especially if you're in the Bay State, in comments.
Ross Lincoln is a LA-based freelance writer from Oklahoma with an unhealthy obsession with comics, movies, video games, ancient history, Gore Vidal, and wine.
[WBZ, Daily Caller, Politico  ]
Follow Ross Lincoln on Twitter.
Follow Movieline on Twitter.