WATCH: '10 Years' Director Jamie Linden On 'Embracing The Chaos' Of Channing Tatum & Co.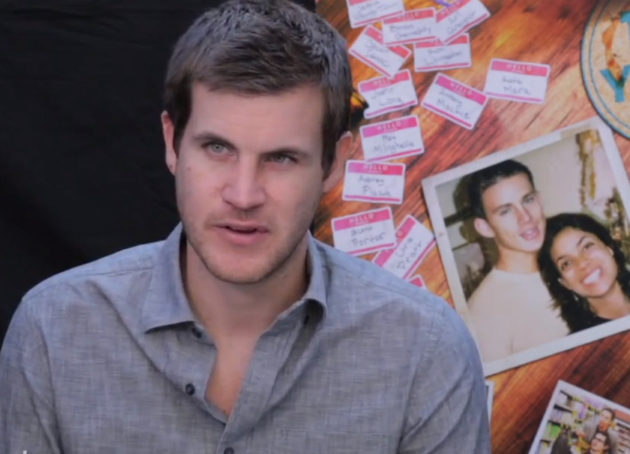 How do you wrangle a movie set packed with Channing Tatum and dozens of his actor friends playing high school classmates catching up, knocking a few back, reuniting with lost loves, reliving teenage hell, and experiencing the awesome-to-mortifying highlights of any class reunion? You "embrace the chaos," says 10 Years director Jamie Linden (Dear John). "There were 15 28-year-old actors running rampant," he explains in Movieline's exclusive clip from the 10 Years DVD/Blu-ray, in stores today. "There wasn't much of a way to keep control."

But Linden put the chaos to good use, filtering that ensemble energy into the film, which plays out over the course of one night as Jake (Tatum) comes face to face with the one that got away while his old classmates (Chris Pratt, Justin Long, Kate Mara, Oscar Isaac, Scott Porter, Brian Geraghty, Anthony Mackie, Max Minghella, Aaron Yoo, Lynn Collins, Ari Graynor) deal with their own drama.
If you missed the indie pic in theaters, now's a good time to catch up. Not only does it feature just about every single rising star of young Hollywood (in addition to the above: Jenna Dewan-Tatum, Aubrey Plaza, Nick Zano, Ron Livingston, and Rosario Dawson), it rounds out the year that marks Tatum's graduation from heartthrob to legit thespian. Plus, there's a lot of love between the cast evident onscreen and it features a karaoke after party in a dive bar called Pretzels, which exists in real life, and has 35-cent wing Tuesdays, so let's all head there now mmkay?
And for you Oscar Isaac fans (so, everyone): He plays guitar and sings. Prepare to swoon.
Check out more behind the scenes clips on the 10 Years DVD/Blu-ray release, out today.
RELATED:
Jenna Dewan-Tatum on High School Reunion Indie 'Ten Years' And Life A Decade Ago: 'I Was A Bit Naïve'

Follow Jen Yamato on Twitter.
Follow Movieline on Twitter.