Vin Diesel Is... Kojak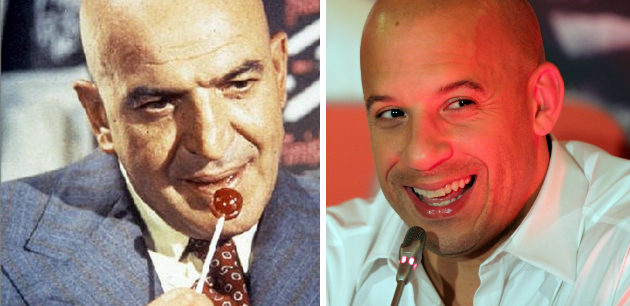 If you haven't been following Vin Diesel's Facebook page, you are missing out on the dorkiest and most touching thing in all the universe. Vin and his 36,982,149 devoted fans live in perfect, sentimentally cheeseball symbiosis, and those fans are a huge part of why he continues to be able to make movies. Chief among them is the incredibly successful Fast & Furious series, which has earned more than $1.5 billion for Universal Pictures. No doubt Universal is counting on that for the upcoming big screen adaptation of the classic 1970s cop show Kojak, because they've done the obvious and genius thing: They're making Vin Diesel the new Telly Savalas.

Kojak featured the late, great Savalas as a tough, charming, and proudly bald NYC detective whose greatest joys were a nice suit, catching bad guys, and attempting to cut down on smoking by sucking on Tootsie Pops. The show ran from 1973 to 1978 before being cancelled due to slipping ratings, but it lived on in a series of TV movies for which Savalas reprised the role. An attempted reboot starring Ving Rhames was produced in 2005 for USA, but as this was prior to that network striking gold with what now feels like an endless supply of quirky hour long dramas, the series was cancelled after only one season.
The Kojak movie will be penned by Neal Purvis & Robert Wade, the duo behind the last 5 James Bond films. That's no guarantee of quality – they did write Die Another Day, after all – but given how Justin Lin's stewardship of the Fast & Furious series kind of turned Diesel's Dominic Toretto into the dumber and more lovable version of Bond, one has high hopes for the combination. And frankly, casting Vin as Kojak feels like the three suns had aligned and the Dark Crystal is about to be restored; he looks good in a suit, he's bald and proud, and more importantly, he is that perfect combination of teddy bear and badass.
Hopefully, Kojak will feature as much sparkle-magic Vin Diesel as it can get away with.
[Deadline]
Follow Ross A. Lincoln on Twitter.
Follow Movieline on Twitter.