'The Hobbit' Sprints To December Record At The Box Office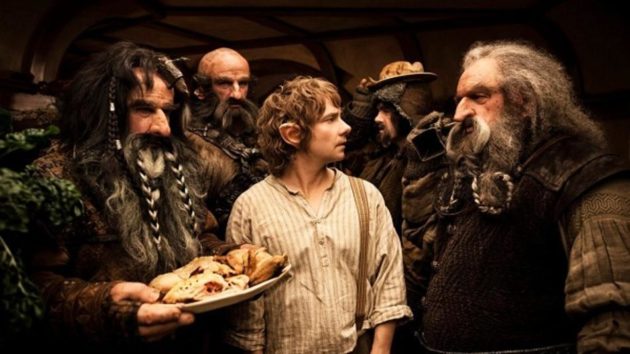 No surprise, it was a Hobbit weekend with the title, accounting for over half of the overall box office and even setting a December record. It did not match the highest estimates of some box office prognosticators, but nevertheless a solid showing considering its expectations. The top 10 grossed over $122.6 million.
1. The Hobbit: An Unexpected Journey
Gross: $84,775,000
Screens: 4,045 (PSA: $20,958)
Week: 1
As expected, Middle Earth proved highly lucrative at the box office, even setting a December record. With 4,045 theaters, The Hobbit's gross outpaced the previous December record-holder, I Am Legend with $77.2 million. It also performed above the start of The Lord of the Rings: The Return of the King at $73.3 million. Still, the Lord of the Rings prequel did not match the lofty expectations of $100 million some had predicted. The feature accounted for over half of the b.o. over the weekend.
2. Rise of the Guardians
Gross: $7,420,000 (Cume: $71,361,823)
Screens: 3,387 (PSA: $2,191)
Week: 4 (Change: - 28.7%)
Rise of the Guardians placed second again and the title only fell about 29% maintaining momentum that should continue with its holiday theme. The pic will have to contend with a number of new releases headed to theaters between now and Christmas, so reaching the $100 million mark may still be tough.
3. Lincoln
Gross: $7,244,000 (Cume: $107,898,000)
Screens: 2,285 (PSA: 3,170)
Week: 6 (Change: - 18.8%)
After its big Golden Globe nomination haul, Steven Spielberg's pic on the 16th U.S. President held strong, only dropping under 19% as the title added 271 theaters. Among the Oscar contenders, it is the highest grossing, at nearly $107.9 million, ahead of Argo's $104.9 million.
4. Skyfall
Gross: $7 million (Cume: $272,366,000)
Screens: 2,924 (PSA: $2,394)
Week: 6 (Change: - 35.1%)
The latest Bond hit number one last weekend in a generally slow box office, but displayed bravado nonetheless. The pic continued to show strength over the weekend, placing fourth in its sixth week with only a 35% drop despite losing 477 theaters from the previous week.
5. Life of Pi
Gross: $5.4 million (Cume: $69,559,406)
Screens: 2,548 (PSA: $2,119)
Week: 4 (Change: - 35.2%)
Ang Lee's 3-D spectacle held decently with a 35% drop as it lost 398 theaters over the previous weekend. Life of Pi again placed 5th in the box office rankings and it continues to be a tiger at the box office overseas where it has grossed an additional $128.5 million. Still it will have a tough time hitting $100 million domestically.
6. Twilight Saga: Breaking Dawn Part 2
Gross: $5,175,000 (Cume: $276,865,000)
Screens: 3,042 (PSA: $1,701)
Week: 5 (Change: - 43.5%)
The Twilight finale lost 604 theaters in its 5th weekend, placing sixth on the chart, dropping three spots from the previous weekend. Worldwide it has grossed a cool $778,265,000 worldwide.
7. Wreck-It Ralph
Gross: $3,273,000 (Cume: $168,779,000)
Screens: 2,249 (PSA: $1,455)
Week: 7 (Change: - 32.6%)
In its seventh weekend of release, the animated Disney pic only dropped 32.6 per cent after losing 497 theaters. It again placed seventh in the chart. Abroad the pic has cumed $57.7 million.
8. Playing for Keeps
Gross: $3,247,000 (Cume: $10,838,092)
Screens: 2,840 (PSA: $1,143)
Week: 2 (Change: - 43.5%)
Opening in sixth place, the pic added three venues and dropped two slots to eighth. The pic will struggle to stay in the top 10 and will likely not stay in theaters in a significant way as new offerings open.
9. Red Dawn
Gross: $2,394,000 (Cume: $40,889,423)
Screens: 2,250 (PSA: $1,064)
Week: 4 (Change: - 43.5%)
One month out, Red Dawn lost 504 theaters and dropped one spot to 9th place. The pic will struggle to pass $45 million domestically which marks a likely loss considering its $65 million production budget.
10. Silver Linings Playbook
Gross: $2,084,000 (Cume: $16,954,049
Screens: 371 (PSA: $5,617)
Week: 5 (Change: - 4%)
The Oscar hopeful broke the top 10 after flirting with it for a number of weeks. The feature is in comparatively far fewer theaters than its other top 10 brethren and its $5,617 per screen average is only outpaced by The Hobbit, which bowed this weekend. After dropping nearly 30% in each of the last couple weeks, the film only fell a very slight 4% this weekend, showing the title has some solid footing as it heads into the thick of the holidays and a wider expansion likely in the New Year.