Sundance Film Festival Adds To 2013 Lineup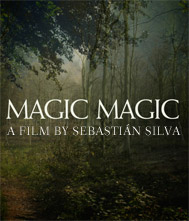 The Sundance Film Festival added four more films to its 2013 slate, including titles in its genre-heavy Park City at Midnight, Documentary Premieres and New Frontier sections. It also will feature director Robert Rodriguez's El Mariachi in its "From the Collection" sidebar.

[Related: Sundance Film Festival Reveals 2013 U.S. & World Competition Slate]
With the additions, the 2013 Sundance Film Festival currently rounds out with 119 feature-length films, from 32 countries and 51 first-time filmmakers, including 27 in competition. The final 119 were selected from 12,146 submissions (429 more than for 2012), including 4,044 feature-length films and 8,102 short films. 103 feature films at the Festival will be world premieres.
[Related: Sundance Film Festival Unveils Star-Studded Premieres & Documentary Premieres Lineup]
Commented Sundance Film Festival director John Cooper in a statement: "With the addition of these four films, the 2013 Sundance Film Festival will present an even more well rounded program of independent films. Each adds to the Festival in exciting, challenging and entertaining ways."
[Related: Sundance 2013 Sets New Matthew McConaughey, James Franco Films & Midnight Pics]
Four additional films follow with information provided by Sundance:
PARK CITY AT MIDNIGHT
Magic Magic / U.S.A., Chile (Director and screenwriter: Sebastián Silva) — An American girl vacationing in remote Chile mentally unravels, putting herself and those around her in danger. Cast: Michael Cera, Juno Temple, Emily Browning, Catalina Sandino Moreno, Augustín Silva. World Premiere
DOCUMENTARY PREMIERES
Muscle Shoals / U.S.A. (Director: Greg 'Freddy' Camalier) — Down in Alabama Rick Hall founded FAME Studios and gave birth to the Muscle Shoals sound. Mick Jagger, Keith Richards, Gregg Allman, Aretha Franklin, Etta James, Alicia Keys, Bono and others bear witness to the greatest untold American music story. World Premiere
NEW FRONTIER (Film)
Wrong Cops / U.S.A. (Director and screenwriter: Quentin Dupieux) — Imagine a Los Angeles where crime is so low that a bored cop sells drugs and harasses a teenager to pass the time. Shot in standalone chapters, as it is being financed, screened and released, watch the 45 minutes of crazy. Cast: Mark Burnham, Marilyn Manson, Steve Little, Eric Wareheim.
FROM THE COLLECTION
El Mariachi / U.S.A. (Director: Robert Rodriguez, Screenwriters: Carlos Gallardo, Robert Rodriguez) — A mariachi musician arrives in a Mexican border town at the same time as a hit man. Each carries a guitar case, but the mariachi's contains his beloved instrument, while the hit man's is full of gadgets and weapons. Cast: Carlos Gallardo, Consuelo Gomez, Jaime De Hoyos, Peter Marquardt, Reinol Martinez.
El Mariachi premiered at the 1993 Sundance Film Festival. A newly struck preservation print of El Mariachi, created by Sony Pictures Entertainment to commemorate the film's 20th anniversary, will screen on Saturday, January 19 at the Egyptian Theatre in Park City. Director Robert Rodriguez is expected to introduce the film and participate in the Q&A.