Matt Damon's 'Promised Land' Among Early Berlin Film Festival Titles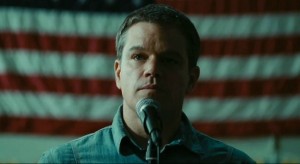 Matt Damon and Frances McDormand starrer Promised Land by Gus Van Sant is one of six films that will screen in competition at the Berlin International Film Festival. Also starring John Krasinski and Rosemarie DeWitt, the film is one of two American titles the festival announced Thursday. Also joining the group is animated feature The Croods, playing out of competition. The title includes voices from Nicolas Cage, Emma Stone and Ryan Reynolds.
Promised Land centers on Steve Butler (Damon) a former farm boy turned big city business guy who teams up with Sue (Frances McDormand) to sell financial prosperity to a struggling Pennsylvania town that has rich deposits of natural gas deep underground. The sales execs offer up easy cash in return for drilling rights on their property, but the process of extraction - known as fracking - divides the town.
[Related: Gus Van Sant On 'Promised Land' & His Desire 'To Always Work' With Matt Damon]
Other titles included in the initial lineup of six films hail from Austria, Chile, France, Germany, the Republic of Korea, Romania and Spain. The 63rd Berlinale takes place February 7 - 17.
The first six Berlinale '13 titles follow with information provided by the festival.
Competition:
 
Gloria, Chile/Spain
By Sebastián Lelio (La Sagrada Familia, Navidad, El año del tigre)
With Paulina García, Sergio Hernández
World premiere
 
Nugu-ui Ttal-do Anin (Nobody's Daughter Haewon), Republic of Korea
By Hong Sangsoo (Night and Day, Hahaha, In Another Country)
With Eunchae Jung, Sunkyun Lee
World premiere
 
Paradies: Hoffnung (Paradise: Hope), Austria/France/Germany
By Ulrich Seidl (Dog Days, Import Export, Paradise: Love)
With Melanie Lenz, Vivian Bartsch, Joseph Lorenz, Michael Thomas
World premiere
 
Poziţia Copilului (Child's Pose), Romania
By Călin Peter Netzer (Maria, Medal of Honor, Zapada mieilor)
With Luminiţa Gheorghiu, Bogdan Dumitrache, Florin Zamfirescu
World premiere
 
Promised Land, USA
By Gus Van Sant (My Own Private Idaho, Good Will Hunting, Milk)
With Matt Damon, Frances McDormand, John Krasinski, Rosemarie DeWitt, Hal Holbrook
International premiere
 
The Croods - animated film in 3D, USA
By Kirk De Micco (Space Chimps) Chris Sanders (How to Train Your Dragon)
With the voices of Nicolas Cage, Emma Stone, Ryan Reynolds
World premiere / out of competition
 
Berlinale Special
Unter Menschen (Redemption Impossible) - Documentary, Germany
By Christian Rost, Claus Strigel
World premiere