Peter Jackson's 'Hobbit' Will Be The Only Hobbit In Theaters: Biz Break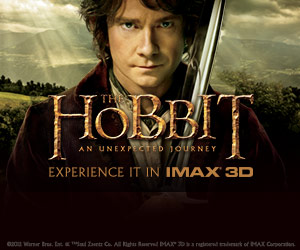 Warner Bros. won its lawsuit against mock-buster Age of the Hobbits. Also in Tuesday's news round-up, Amy Adams will be feted for The Master; Tim Buckley feature is heading to U.S. theaters; Disney will adapt Dolphin pic for a feature; and Gus Van Sant is lending his name for the U.S. release of acclaimed Laurence Anyways.
Warner Bros. Triumphs in Hobbit Mock-buster Case
A federal judge granted Warner Bros., MGM and others a restraining order against mock-buster Age of The Hobbits, saying the victory over Global Asylum's "cynical business model." Global had planned a to release a parallel pic, Age of the Hobbit against Peter Jackson's The Hobbit: An Unexpected Journey, Deadline reports.
Amy Adams to Receive Santa Barbara International Film Festival's Cinema Vanguard Award
The three-time Oscar-nominated actress will be presented the events's prize January 31st. Adams is a contender for Best Supporting Actress for her role as the wife of a cult leader in Paul Thomas Anderson's The Master, THR reports.
Greetings From Tim Buckley Heads to U.S. Theaters
Directed by Dan Algrant, the Toronto Film Festival feature explores two generations of musicians, Tim and Jeff Buckley. Penn Badgley plays Jeff Buckley as a young musician who rehearses his public singing debut at a Brooklyn tribute to his father and struggling to come to terms with his legacy with the help of an unlikely woman at the show. While they discover each other and New York City, the film also explores Tim's (Mr. Rosenfield) 1960s heyday, as he drives cross-country with a girlfriend and finds himself on the verge of stardom. Tribeca Film will distribute the pic with Focus World, a subsidiary of Focus Features.
Disney to Adapt Dolphin Boy Feature
The studio secured rights to the Israeli documentary, which revolves around a teenager from an Arab village in northern Israel who is traumatized from a violent attack and slowly recovers with the help of dolphins. The Bucket List writer Justin Zackham will write the script for Disney, Variety reports.
Gus Van Sant Joins Xavier Dolan's Laurence Anyways in U.S. Release
Van Sant's Promised Land is gathering some Oscar buzz, but he'll lend his name as executive producer to acclaimed young Quebecois filmmaker Xavier Dolan's third Cannes title, Laurence Anyways as it heads out to U.S. screens in 2013. Set in the '90s, Laurence Anyways is the tale of a young couple and the difficult decisions they must face after the man decides to start living his life as a woman.