Mimes, Monkeys, And The Ghost Of 'Fitzcarraldo': Inside Brazil's Amazonas Film Festival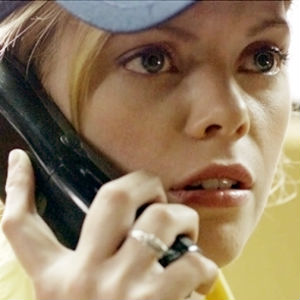 As for modern American cinema, it was represented by Craig Zobel's Sundance flick Compliance, inspired by a real-life crime where a fictitious policeman swayed a fast food manager to strip and rape an employee. The schoolkids clustered in the balconies hooted when the victim was forced to take off her shirt, but hushed when they realized they were as young — and as vulnerable — as the abused, and that this psychological attack could happen even in Brazil's local megachain Bob's Burgers.
Interestingly, there's no word for "compliance" in Portuguese, so the title had to be translated into Submission, which Zobel noted has a different connotation. (It turns out many languages don't have that concept — in Russia, the movie had to be retitled Obedience.) But Zobel took the transformations in stride — even his own, when the translators repeatedly called him "Greg Rogers" — and both he and Compliance were very popular in Manaus, especially with a deaf-mute who was delighted by the size of 6'4" Zobel's feet.
But the discovery of the film festival was Fernando Leon's La Cebra (The Zebra), a bitter black comedy from Mexico about two bandits caught in the maelstrom of the 1915 revolution. Leandro (Jorge Adrian Spinola) and Odon (Harold) are like a murderous Dumb & Dumber. While their country tears itself apart at the seams, they skulk around stealing what they can, which includes a zebra poached from a traveling circus that they name "Fucker," thinking it means "gringo horse" en ingles. If you've ever been mystified by the dozen fake zebras lining Tijuana's tourist trap Avenida Revolucion, La Cebra explains why. But the road there detours into gunfire, a mescal trip, and even Leandro and Odon's kidnapping at the hands of four desperate women.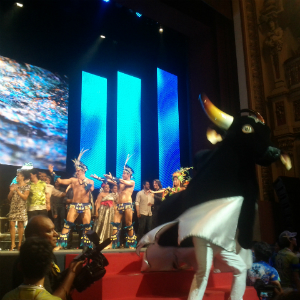 Still, La Cebra wasn't even the wildest thing to storm the Teatro Amazonas. After the closing night ceremony in which top honors went to Mads Matthiesen's Teddy Bear and the Brazilian drama Era uma vez eu, Verônica, the final madness was unleashed: A sample of the region's annual festival, Parintins, AKA the Battle of the Blue Ox versus the Red Ox. Tradition dictates that once upon a time, a pregnant woman asked her husband to kill his finest ox and feed her the tongue. He did, and then tried to bring the animal back to life by throwing a wild party. This tale has mutated into a festival where 200,000 people crowd a stadium and pledge allegiance to either the red or blue ox and compete over which team is the most krunk.
Picture Step Up 2 the Amazon with a cast of thousands wearing feathers and thongs. Like the Bloods and the Crips, color loyalty is so serious during the festival that Coca-Cola temporarily manufactures their soda can in red and blue; 100K blue loyalists would rather kill themselves than clutch a red can. That's no empty threat: Up to the 1960s, some fist-fighting revelers at Parintins actually died.
As Jon Voight said in Anaconda, "This river can kill you in a thousand ways." But it can also thrill. The Amazonas Film Festival is unequaled in wild, wonderful weirdness. If you ever make it to that part of the world — and you should — it's a must.
The Amazonas Film Festival is held in Manaus, Brazil in November.
[Ed.: The original version of this story omitted the citation of the Brazilian film Até que a Sorte nos Separe and erroneously described the Parintins festival as a Manaus event because of its connection to the Amazonas film festival. A translation error regarding Secretary of Culture Robério Braga has been corrected.]
Amy Nicholson is a critic, playwright and editor. Her interests include hot dogs, standard poodles, Bruce Willis, and comedies about the utter futility of existence. Follow her on Twitter.
Follow Movieline on Twitter.
Pages: 1 2