REVIEW: 'The Impossible' Ties A Teary Bow On True Tsunami Tragedy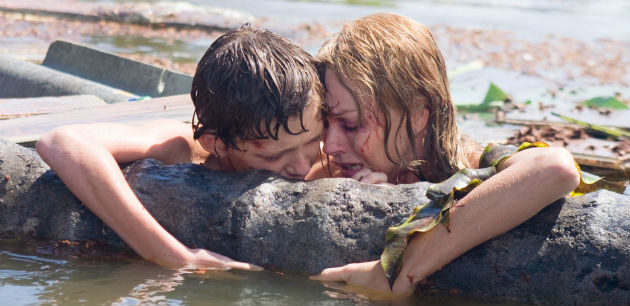 There's a question that The Impossible, the new film from Juan Antonio Bayona (The Orphanage), demands be asked, and that is — is it easier for audiences to relate to tragedy when it's filtered through white characters? This is not a new issue. The movies have a long tradition of approaching stories about people of color, both at home and abroad, through the experiences of Caucasian protagonists, a habit that speaks to both (probably not unfounded) ideas about audience preferences and prejudices and the linked reality of what most of our movie stars still look like. The Impossible is set during the 2004 tsunami that hit South East Asia the day after Christmas, killing over 230,000 people and devastating Indonesia, India, Thailand and other countries, but it's about how one expat family on holiday weathers the tragedy, an uplifting tale of survival and endurance amidst the ruin.

On one hand, yes, it feels undeniably strange and selective to approach the worst tsunami in history by way of vacationing foreigners, with representatives of the local Thai population limited to those who come to their aid. The film begins with the family — Henry (Ewan McGregor) and Maria (Naomi Watts), and their sons Lucas (Tom Holland), Simon (Oaklee Pendergast) and Thomas (Samuel Joslin) — arriving on a turbulent flight, and ends with their worse for the wear departure on another one, and the relief that accompanies that trip to safety comes with an awareness that many of the other people left behind do not have a home elsewhere to go back to.
On the other hand, The Impossible, which was written by Sergio G. Sánchez, is based on the true story of a Spanish family (transformed here into a British one) who were some of the many visitors to the area whose trip abroad turned into a nightmare. Their experiences aren't unworthy of being dramatized simply because they're not representative of the underreported norm, and the film recreates the horrifying saga in ways that are startlingly visceral, including a masterful sequence in which the first wave arrives like a monster in a horror flick. This story being told doesn't mean that others are silenced, and The Impossible benefits from taking a limited perspective on an awful larger incident rather than try for something more panoramic.
What may be a more relevant question for The Impossible is what its aims are as a movie. It's a thoroughly and effectively sappy effort about a family searching for one another after an incredible catastrophe in the trappings of traumatic gore film — or vice versa, but either way the two halves sit uneasily beside one another on screen. As in The Orphanage, Bayona demonstrates he has a talent for the disturbing or flat out frightening and a taste for the sentimental, and it's perhaps because this is a film about a real and recent disaster that both feel amplified, the shock and suffering turned up to apologize for or counterbalance the unabashed drippiness that follows.
From a pure filmmaking perspective, it's the first half that really impresses and perturbs, as Henry, Maria and the kids arrive from Japan to spend their holidays in a gorgeous beachside resort in Khao Lak. They film themselves on Christmas morning opening presents on the veranda, they release a paper lantern on the beach at night, and they sit poolside getting sunburns with other Western tourists and talking about their careers while the boys frolic in the water. The tsunami takes them completely by surprise, as it did almost everyone affected, rumbling from the horizon and taking out everything in its path. We stay with Maria as she's swept away in the chaotic mass of water, the camera sticking with her as she clutches a tree and howls in pain and upset, then cutting over to Lucas as he's pulled in the current, the two trying to reach each other in a world suddenly upended.
It's a tour de force sequence, and one that manages to outdo a similar one in Hereafter with little effort. But it's what follows that's enough to evoke a physical reaction, as Maria trudges through the wreckage, too stunned to notice the tattered muscles exposed in the gaping wound in her leg. The suffering Watts portrays — she climbs, dripping blood and crying in pain, into a tree and in a later scene coughs up what looks like lung tissue — looks all too agonizingly real, and enabling that requires a committed and deeply believable bit of acting. But watching her ordeal is enough to make you feel shaky, and almost as troubling are the sequences that follow in which Henry trudges through the splintered remains of their hotel, looking for the rest of his family, either alive or dead.
The Impossible drops you into the experience of living through the tsunami in specific, achingly realized detail, then pulls back to provide a happier ending. After so much anguish, the need to balance it out with something positive is understandable, but it's difficult not to be aware of just how much Bayona is yanking on heartstrings as he arranges for near misses and hospital misunderstandings, teary phone calls and kindly old women (Geraldine Chaplin!) providing companionship to forlorn children. Any glimpses of good amidst the destruction are welcome, but after that jarring, unforgettably immediate account of the tsunami, the latter half of The Impossible is so disappointingly movie-ish, tying a bow on the events after portraying them too vividly to allow them to be wrapped so neatly. It wrings out tears with an industrious efficiency that leaves you feeling manhandled after the exhilarating, terrifying footage that's unfolded before.
Follow Alison Willmore on Twitter.
Follow Movieline on Twitter.