'The Hunger Games' And 'The Muppets' Top Grammy Awards Movie Nominees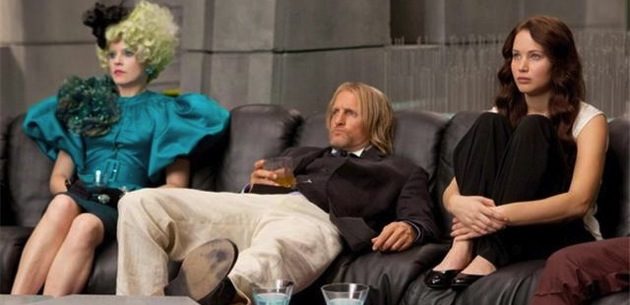 The Hunger Games, The Dark Knight Rises, The Muppets, Midnight In Paris and even last year's Oscar winner for Best Picture, The Artist are up for awards this year, but this time it's for the 55th annual Grammy Awards.
Theatrical titles dominated this year's Grammy categories dedicated to visual media with The Hunger Games receiving two nominations for Best Song ("Abraham's Daughter") and Taylor Swift's "Safe & Sound." The Muppets also scored two nominations, including Best Song for "Man Or Muppet" in addition to a nomination for Best Compilation Soundtrack. Others in the category include this year's Marley documentary and 2011's The Descendants and Midnight in Paris.
Trent Reznor received a Best Score nom for The Girl with the Dragon Tattoo along with Hans Zimmer for The Dark Knight Rises and John Williams for The Adventures of Tintin - The Secret of the Unicorn.
The Black Keys' "Lonely Boy," Kelly Clarkson's "Stronger (What Doesn't Kill You)," Fun's "We Are Young" Gotye's "Somebody That I Used to Know," Frank Ocean's "Thinkin Bout Your" and Taylor Swift's "We Are Never Ever Getting Back Together" are the Grammys' nominees for Record of the Year.
The Grammy Awards ceremony will be broadcast February 10th on CBS.
55th Grammy Awards' Visual Media-related nominees follow with information provided by the Recording Academy (for other categories, visit the Grammy's website).
Best Compilation Soundtrack For Visual Media:
The Descendants
(Various Artists)
[Sony Classical/Fox Music]
Marley
(Bob Marley & The Wailers)
[UMe/Island/Tuff Gong]
Midnight In Paris
(Various Artists)
[Madison Gate Records, Inc.]
The Muppets
(Various Artists)
[Walt Disney Records]
Rock Of Ages
(Various Artists)
[WaterTower Music]
Best Score Soundtrack For Visual Media:
The Adventures Of Tintin - The Secret Of The Unicorn
John Williams, composer
[Sony Classical]
The Artist
Ludovic Bource, composer
[Sony Classical]
The Dark Knight Rises
Hans Zimmer, composer
[WaterTower Music]
The Girl With The Dragon Tattoo
Trent Reznor & Atticus Ross, composers
[Null/Madison Gate]
Hugo
Howard Shore, composer
[Howe Records]
Journey
Austin Wintory, composer
[Sony Computer Entertainment America]
Best Song Written For Visual Media:
Abraham's Daughter (From The Hunger Games)
T Bone Burnett, Win Butler & Régine Chassagne, songwriters (Arcade Fire)
[Universal Republic; Publishers: Régine Chassagne, Absurd Music, Win Butler, Henry Burnett Music, Baffle Music]
Learn Me Right (From Brave)
Mumford & Sons, songwriters (Birdy & Mumford & Sons)
[Walt Disney Records/Pixar; Publisher: Pixar Talking Pictures]
Let Me Be Your Star (From Smash)
Marc Shaiman & Scott Wittman, songwriters (Katharine McPhee & Megan Hilty)
[Columbia; Publishers: Winding Brook Way Music, Walli Woo Entertainment]
Man Or Muppet (From The Muppets)
Bret McKenzie, songwriter (Jason Segel & Walter)
[Walt Disney; Publisher: Fuzzy Muppet Songs]
Safe & Sound (From The Hunger Games)
T Bone Burnett, Taylor Swift, John Paul White & Joy Williams, songwriters
(Taylor Swift Featuring The Civil Wars)
[Big Machine Records/Universal Republic; Publishers: Sony ATV Tree Publishing, Taylor Swift Music, Sensibility Songs, Absurd Music, Shiny Happy Music, Baffle Music, Henry Burnett Music]
[Source: Yahoo]