REVIEW: FDR Gets A Handy In Dismal 'Hyde Park on Hudson' − And Moviegoers Get Hosed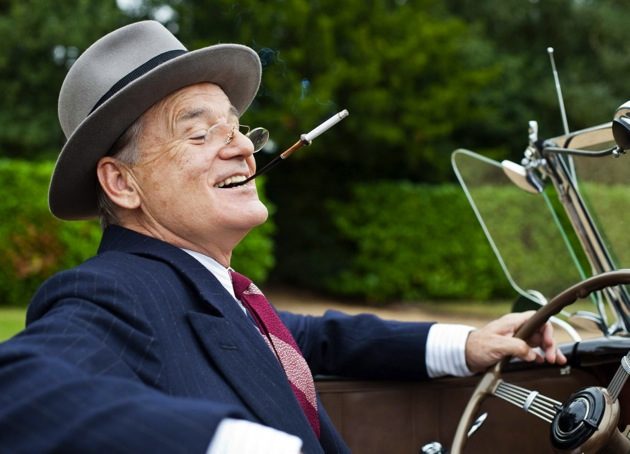 A dismal misfire, Hyde Park on Hudson could have been a spoof of a period prestige film, had it a little more energy and humor.
Consider this scene: Daisy (Laura Linney), a poor distant relative of Franklin Delano Roosevelt (Bill Murray), has begun getting summoned to the house the President shares with his mother (Elizabeth Wilson) to provide him with company and distraction from his work. The two go for drives in the countryside, while Daisy intones in a plummy voiceover about the Depression, her lonely life taking care of her aunt and  her growing closeness with FDR: "I helped him forget the weight of the world," she says around the time that the president shoos his security away, pulls over in a picturesque field and pulls her hand toward him. The camera retreats to a decorous distance, the breeze blows over the wildflowers, FDR's custom-built convertible begins a-rocking, and it takes a second to realize...why yes, FDR just got his spinster cousin to give him a handy.
Directed by Roger Michell (Notting Hill, Morning Glory) and based on a radio play by Richard Nelson, Hyde Park on Hudson is an arthritically stilted production that looks even more rickety when measured against the ranks of the awards contenders to which it aspires. It's half an unconventional and underdeveloped romance and half a recounting of the 1939 visit King George VI (Samuel West), aka Bertie, and Queen Elizabeth (Olivia Colman) paid to FDR at his Dutchess County estate to firm up the relationship between the UK and the US in the lead-up to World War II, the first time a reigning British monarch did such a thing.
With the exception of FDR's rural interlude, neither of these two tales unfolds with any momentum or satisfaction. (The latter story actually centers around whether or not Bertie will loosen up enough to eat a hot dog at a picnic.) In combination, they're even more awkward, however. Overlapping without really interacting. the two stories are like strangers who've been invited to the same weekend getaway but not introduced.
Presumably because of the nature of the source material, the film relies heavily on Daisy's narration for large swaths of story. Instead of being shown the growing connection between her and FDR, we're baldly told that's what's happening. And we know she's fallen in love with him because she says "How I longed for him." Daisy has little personality or purpose other than to serve as an observer on the outskirts, but there are major portions of the film for which she isn't present and couldn't be serving as the point of view, as Bertie and Elizabeth debate in their room about whether or not they're being made fun of and how best to approach their social engagements.
The pair were the focus of 2011 Oscar winner The King's Speech, but are made a little stuffier and more ridiculous here — "Hyde Park is in London, it's so confusing," Elizabeth says as they travel to the house, and the two discuss the meaning of the humorous prints on the wall of Bertie's room and who in the house is sleeping with whom (an issue well worthy of speculation).
Murray is the movie's main attraction, but he turns in a deflatingly one-dimensional impression-as-performance, twinkling with all his might as he charms Bertie over cocktails and seduces Daisy with his stamp collection. His FDR comes across as everyone's blithe uncle, seen mainly through the admiring eyes of our narrator, so that even the earthier side that leads him to instigate their affair and to indulge in others she learns about later (to her dismay) is laboriously sublimated into something that uncomfortably recalls a lord and his concubines.
Daisy's main qualities are to be accommodating and to have not done anything in her sheltered life, giving Linney little to do except gaze worshipfully at Murray. "My husband loves the adoring eyes of young women," laughs a brusque Olivia Williams, playing an Eleanor characterized with a delicacy that falls just short of having her stomp around in a Carhartt jacket and fauxhawk bellowing that she likes the ladies.
Hyde Park on Hudson is a sort of high-stakes comedy of manners, but it's one in which the extremely mannered are placed in contrast with the merely very mannered. Its instances of culture shock deal with less than naturally dramatic decisions, such as whether it's appropriate to serve cocktails or hot dogs to royals. The film allows that FDR had an unconventional personal life — with multiple mistresses and a wife who lived apart from him — but it treads around these most interesting speculative details, with a fussy decorum, preferring to dwell on shots of vintage wallpaper.
There's one moment in which an emotionally wounded Daisy imagines screaming at FDR that "You're not getting off that easy, you son of a bitch!" She never says it out loud, though, and the other characters in this film never say what's on their minds either. They're just pale shadows of real people who were probably far more interesting and complicated than this film allows them to be.