Seth MacFarlane Eyes Western Comedy As Ted Follow-Up: Biz Break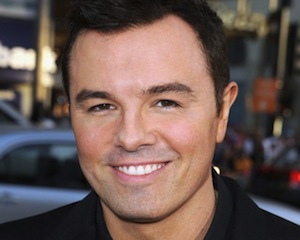 Seth MacFarlane may direct and star in the "contemporary" Western. Also in the news Tuesday, Disney is blasting Stan Lee Media's multi-billion lawsuit over rights to Marvel characters; Guillermo del Toro eyes his next project; the Film Society of Lincoln Center will host Tom Cruise retrospective; and Lincoln may leave some in Alaska out in the cold.
Seth MacFarlane Eyes Western Comedy as Ted Follow-Up
MacFarlane and his Ted co-writers Alec Sulkin and Wellesley Wild are writing A Million Ways to Die in the West, which MacFarlane is said to star in and direct for Summer 2013. The story is described as a Blazing Saddles-stye pic, which translates into a Western with contemporary humor. The script is said to contain MacFarlane's racy humor, but also has a romantic female lead, THR reports.
Disney Blasts Stan Lee Copyright Lawsuit Regarding Marvel Superheroes
Disney called Stan Lee Media's multi-billion lawsuit "flawed beyond cure" and filed a motion for its dismissal last week. Stan Lee Media claims rights to all Marvel characters created by Stan Lee, Deadline reports.
Film Society of Lincoln Center to Host Tom Cruise
Cruise will take part in an onstage conversation with NY Film Festival programmer Kent Jones. The event will include a sneak preview of Cruise's latest, Jack Reacher in which he portrays a "tough ex-military investigator out for justice." The event will kick-off the career retrospective, "All The Right Moves: The Films of Tom Cruise" December 18 - 20. Tickets will go for $50 and $35.
Guillermo del Toro Eyes Crimson Peak
Del Toro will direct the haunted house thriller as his next project. Legendary and del Toro are looking to a February 2014 start for the pic, which aims to "channel the gothic haunted pictures of yore." He is expected to shoot the pilot for The Strain, based on the books he wrote with Chuck Hogan, ahead of Crimson, THR reports.
Some Alaska Venues Out in the Cold with Lincoln
Disney says the Steven Spielberg-directed Oscar hopeful has had such high demand the studio is now rushing to make new prints. But the reinforcements may come too late for smaller venues in Alaska's capital, Juneau and other towns. Copies weren't available for some venues when they hoped to get them and may have to pass, though Oscar buzz may reignite interest, Huffington Post reports.