High And Low: New Box Sets Feature Coppola At His Most Obsessive & MST3K At Its Most Hilarious
Wherever you stand on the High & Low scale, meticulous attention to craft and detail separates the journeymen from the true artists. This week, we get a tribute to an American auteur that most reflects his exacting eye — which, at one point, drove him into bankruptcy — along with highlights from a comedy series devoted to watching dreadful movies over and over again to find the humor therein.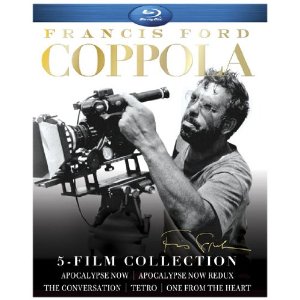 HIGH: Francis Ford Coppola: 5-Film Collection (Lionsgate; Blu-Ray $39.99)
WHO'S RESPONSIBLE: A quintet of films from legendary American filmmaker Francis Ford Coppola (although two of them are Apocalypse Now).
WHAT'S IT ALL ABOUT: This collection features the original and "Redux" versions of Apocalypse Now, along with critical fave The Conversation, late-career curiosity Tetro and elaborate musical One from the Heart — a film so lavish and expensive that it helped to bankrupt Coppola's ambitious American Zoetrope film studio.
WHY IT'S SCHMANCY: The Godfather trilogy is owned by another company and thus absent here, but the films on display capture, in miniature, the breadth of what makes Coppola such a singular filmmaker. They're all passion projects to some extent, and while some of these movies have their detractors, none of them represent Coppola collecting a big studio paycheck in return for mere competency behind the camera. (See Jack or The Rainmaker for that sort of thing.) From the technical and emotional nitty-gritty of The Conversation to the Vegas-vu-par-MGM spectacle of One from the Heart, this set captures a fascinating slice of American film history.
WHY YOU SHOULD OWN IT (AGAIN): One from the Heart makes its Blu-Ray debut here (file it next to The Criterion Collection's recent hi-def release of another infamous budget-buster, Heaven's Gate), and three of these films come loaded with plenty of extras. All you get with both Apocalypse Now movies is a Coppola commentary, but fans probably already own the elaborate Apocalypse Now "Full Disclosure Edition" released a few years ago by Lionsgate.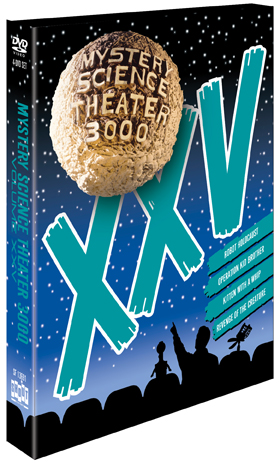 LOW: Mystery Science Theater 3000: XXV (Shout Factory; DVD $59.97)
WHO'S RESPONSIBLE: Four films deserve and receive mockery by Joel Hodgson, Mike Nelson, Trace Beaulieu, Kevin Murphy, Frank Conniff, Bill Corbett, Mary Jo Pehl, J. Elvis Weinstein and the rest of the crew.
WHY IT'S FUN: Mystery Science Theater 3000 took audience interactivity to new heights by hilariously "riffing" through some of the worst movies they could find, and now these DVD collections both capture the original episodes in all their glory while also enhancing them with new extras.
For MST3K's 25th edition from Shout Factory, we get young Ann-Margret minxing up John Forsyth in Kitten with a Whip; the mind-bending Operation Kid Brother, starring Sean Connery's brother Neil as (wait for it) the brother of a secret agent; Jack Arnold's Black Lagoon sequel Revenge of the Creature, featuring Universal contract player Clint Eastwood; and Robot Holocaust, which makes the other three films featured here look like The Magnificent Ambersons by comparison. The show was consistently funny over the course of a decade, and this collection features a great mix of genres (not to mention some of the most watchable movies they ever targeted).
WHY YOU SHOULD OWN IT: All four of these are great episodes — and at the moment, this is the only way you can get Operation Kid Brother (aka OK Connery, aka Operation Double 007) on DVD in the United States. There are also new introductions by Hodgson and Nelson, and a doc on Arnold's years at Universal. If you order directly from Shout Factory, they'll throw in a bonus DVD of all nine chapters of Radar Men from the Moon riffed by the Season One cast, including one previously unreleased chapter and a new intro by Weinstein.
Alonso Duralde has written about film for The Wrap, Salon and MSNBC.com. He also co-hosts theLinoleum Knife podcast and regularly appears on What the Flick?! (The Young Turks Network).  He is a senior programmer for the Outfest Film Festival in Los Angeles and a pre-screener for the Sundance Film Festival. He also the author of two books: Have Yourself a Movie Little Christmas (Limelight Editions) and 101 Must-See Movies for Gay Men (Advocate Books).
Follow Alonso Duralde on Twitter. 
Follow Movieline on Twitter.