'Virtually Heroes' − Video Game Characters Search For Meaning At Sundance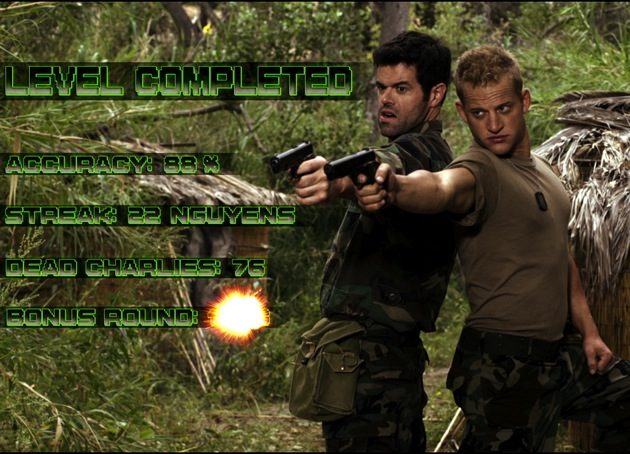 We've come to expect high-concept portrayals of the human condition from the Sundance Film Festival, but next year, virtual humans will get some art-house love, too. I'm talking about G.J. Echternkamp's feature-film debut, Virtually Heroes, which will get a Park City at Midnight premiere at the festival in January. This is the Sundance synopsis for the film:
 Two self-aware characters in a Call of Duty-style video game struggle with their screwy, frustrating existence. To find answers, one abandons his partner and mission, seeking to unravel the cheat codes of life.
Soldiers searching for meaning as they try to escape an endless cycle of pointless violence? If screenwriter Matt Yamashita set the story in Eastern Europe and Echternkamp shot it in black and white, you'd probably already be hearing Oscar buzz. But Virtually Heroes is set in a video game, which is why it will be a lot more fun.  I'm going to see as soon as physically possible for the following four reasons: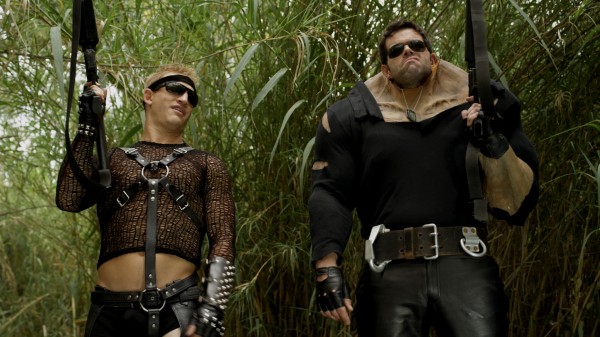 1. Produced by Roger Corman
Roger Corman has propagated the careers of a  a remarkable array of filmmakers via his prolific B-movie production. I'm talking such little-known directors as James Cameron, Francis Ford Coppola and Martin Scorsese and low-level actors Jack Nicholson, Dennis Hopper and Robert De Niro. So when he decides that Virtually Heroes director Echternkamp and screenwriter Matt Yamashida are worth a chance, you should too.
2. Expert Video Gamers
You know a film is low-budget when it doesn't have a trailer. But like any upcoming video-game release, the producers have been flooding the Internet with screenshots, many via the movie's Facebook page. And these shots show they know what they're talking about.  You also know the director knows video games when he laments that he couldn't afford as many rocket launchers as he wanted.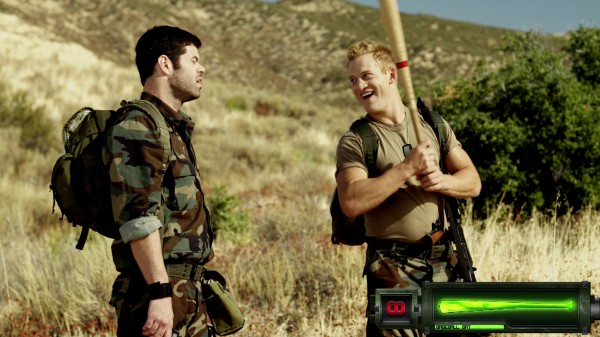 Also, Virtually Heroes doesn't just incorporate the standard gaming status display on the screen, which you can see in the above shot. That display features a baseball bat with the infinity symbol, which is a classic shooter-game conceit. Every other weapon has limited ammunition, but the melee weapon — in this case, the bat — can be used forever.  Oh yeah, and anyone who includes teabagging in a live-action movie knows what they're doing.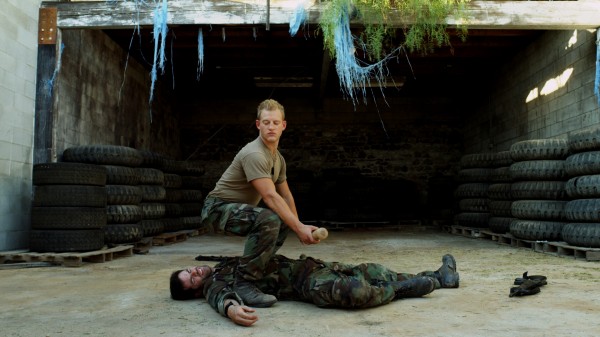 For those who haven't been beaten in Halo, teabagging is a gamer taunt that involves repeatedly crouching your character over the body of a defeated enemy. That's the closest you can come to sexual innuendo when your character has a smooth armored crotch and a "crouch" button.
3. Parody Plot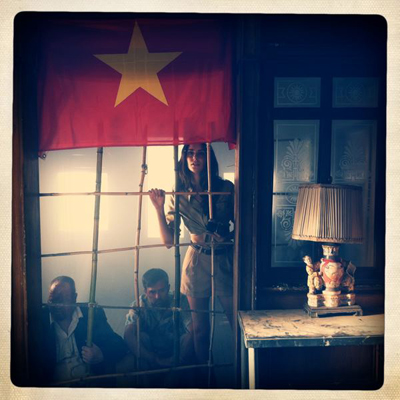 Virtually Heroes isn't set in a specific shooting game, which means it can effectively be set in all of them. With no established canon to respect, it can hop from setting to setting, reference to reference — each scene in a different level in video game lingo — to make whatever jokes it wants. The movie's settings range from Vietnam to the Old West to Pirate-themed  combat and it appears that the damsel in distress is immediately re-kidnapped every time the soldiers in question save her.
This requires them to trek through another level, questioning their existence while taking the piss out of Nintendo's Mario.
The parody theme is continued with Mark Hamill turning up as "The Monk", a wise, brown-robed hermit the heroes consult in search of true wisdom. When you can ask Luke Skywalker to make fun of Obi-Wan Kenobi, and he says yes, that's worth the price of admission alone.
4. The Director Knows His Satire
This may be Echternkamp's first feature film, but his directorial debut was another sharp parody project. His 2002 short Resurgence II  is about an inept film director dedicated to creating an avant-garde masterpiece by using, it's revealed, a mail-order "Art Film Flo-Chart"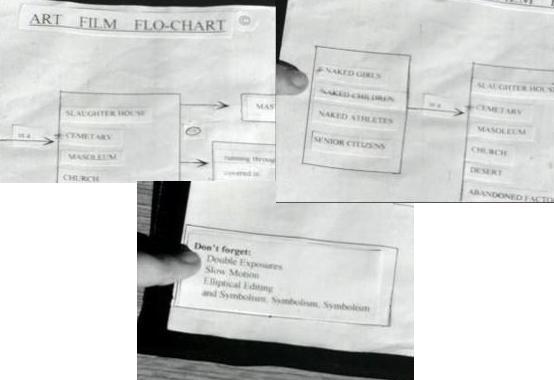 Corman must have seen that and thought: Yes, this man is ready for the B-movie big time.  I agree.
Luke McKinney loves the real world, but only because it has movies and video games in it. He responds to every tweet.
Follow Luke McKinney on Twitter.