Lindsay Lohan Busted Again − Is She Beyond Help?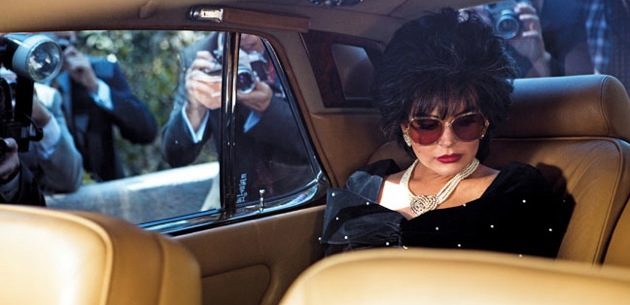 If Lindsay Lohan doesn't go back to jail as a result of today's news, I have an idea for a film project for her:  It's a remake of Groundhog Day in which LiLo plays the Bill Murray role and wakes up every day to new criminal charges until she gets her act together. 
Since Tina Fey is the last person to get a memorable performance out of Lohan, she should write and direct. Harold Ramis, who wrote and directed the original Groundhog Day, could have a cameo as the wise prison warden, and...Jesus, why am I even bothering?
I used to actually believe that Lohan had it in her to carve out a great second act in her life and career by stopping the nightclubbing, cutting off her embarrassing parents and devoting herself to work. But after five trips to rehab,  the latest critical savaging she received for her performance in Liz & Dick and reports of her arrest Thursday morning and new criminal charges that are about to be filed against her,  I think it may finally be time to declare Lohan a lost cause.
As you probably know, Lohan was busted around 4 a.m. on Thursday morning after she allegedly punched woman at a Manhattan nightclub.  Earlier that night, she'd caught Justin Bieber's concert at Madison Square Garden, but apparently the good vibrations didn't carry LiLo through the night.
The NY Daily News reports that after exchanging words with 28-year-old Tiffany Eve Mitchell at the Chelsea nightclub Avenue,  Lohan slugged the alleged victim in the face.
TMZ reported that Lohan, 26, was arrested  as she attempted to flee the scene in a friend's car. "Are you kidding? Oh my God, are you kidding?" Lohan can be heard saying on the video of her arrest that the celebrity site posted.  (I've embedded it below.)
Lohan was issued a desk appearance ticket for misdemeanor assault and faces a Jan. 11 court date, but that's just the beginning of her troubles. As TMZ reports, "she'll face a total of four new criminal charges on the same day on different coasts." In addition to the above charge, law enforcement sources told the website that the Santa Monica City Attorney will also hit Lohan with three criminal charges stemming from her car accident there last June on the Pacific Coast Highway. Lohan's Porsche slammed into the rear of an 18-wheeler and though she told police she was a passenger in the car, it turned out she had been driving.
The charges: Giving false information to a peace officer, obstructing or resisting a police officer in the performance of his duty, and reckless driving. (Meanwhile, Lifetime reportedly may sue Lohan for breach of contract because this incident happened during the shooting of Liz & Dick and the cable network's insurance policy on the actress forbid her from driving.)
Lohan is still on probation for felony jewel theft and TMZ notes that when the actress is arraigned on these charges, probably next week, the judge will revoke her probation and set a hearing to "determine if she will go to jail for a long period of time."
I can already see a tearful Lohan pleading for leniency, but will the judge, or anybody, be moved?  At this point, it's hard to feel any empathy — or even pity — for a 26-year-old actress who has squandered what should have been the most productive and exhilarating years of her career. Lohan could have been wowing us with her acting talent, but instead she chose to amuse and, ultimately, bore us with her bad behavior.
Follow Frank DiGiacomo on Twitter.
Follow Movieline on Twitter.