A Tale of Two Directors: Alfred Hitchcock, J. Edgar Hoover, And The FBI's Eye On The Master Of Suspense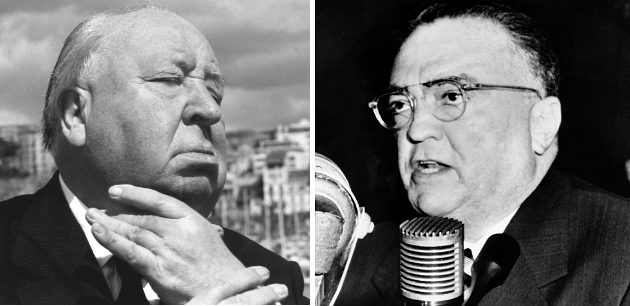 The Bureau first learned of the FBI character through a mole at Revue Studios, whose intel about the "improper portrayal of an FBI agent" was delivered directly to the Director's office. Hoover wrote back a few days later requesting that the tattler at Revue be "contacted on at least a monthly basis" until the G-Man character was eliminated or the script out of production.
When the Bureau learned several months later that the FBI character had indeed been eliminated, officials there were upset anew by one apparently inflammatory line in the script: that a private detective "used to work with the FBI and still keeps in touch with that agency." The Bureau applied pressure again to have this piece of dialogue eliminated, this time to no avail. After seven months, the FBI concluded its surveillance with a promise: "The show will be monitored."
Two years later, the producers of Alfred Hitchcock Presents were careful not to ruffle the Bureau's feathers again. Revue phoned the L.A. office to request clearance for a name to be used for their FBI agent character in the episode "Run for Doom." (That character's name, David Carson, is still redacted in the FBI file.) The agency once again tried to persuade the studio to drop all references to the Bureau.
Producers refused, and Hoover himself approved the name three days later, confirming that "No past or present Bureau employee [exists] with similar name." In his indefatigably paranoid fashion, the Director advised the LA office, "You should follow matter closely to make certain proposed part of FBI agent is not enlarged or presented in such a manner as to be harmful to Bureau's reputation." Hoover was assured that the script for the show would be "closely followed."
Hitchcock is personally referenced only once in the file: His reputation was apparently in such good order that he was under consideration to participate in President Lyndon Johnson's 1964 inauguration, and the FBI endorsed Hitchcock to the White House.
Through the success of his inventive filmmaking and careful self-invention, Hitchcock now enjoys a legacy as a cultural icon though hardly a countercultural one. In all likelihood, the director was too apprehensive a man to dare incur the neurotic wrath of the other Director. Hitchcock was the Master of Suspense, but Hoover knew how to instill fear across a nation — and for a lot longer than two hours at a time.
[Muckrock]
Inkoo Kang is a Boston-based film journalist and regular contributor to BoxOffice Magazine whose work has appeared in Pop Matters and Screen Junkies. She reviews stuff she hates, likes, and hate-likes on her blog THINK-O-VISION.
Follow Inkoo Kang on Twitter.
Follow Movieline on Twitter.

Pages: 1 2