The 9 Most Scathing Critical Responses To 'Red Dawn'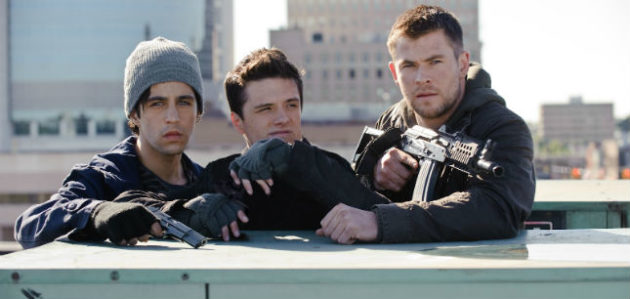 You can be sure the folks at MGM are really happy they spent $70 million and counting remaking the totally '80s teen insurgency actioner Red Dawn for the CW set. (Not to mention sitting on, then digitally reworking their baddies from Chinese to more marketable Korean villains because they look similar enough anyway, right?) The clumsy, politically misguided, arguably irresponsible, totally "America, f*** yeah!" tale of Washingtonian teens taking up arms against North Korean invaders is so fantastically paranoid and plodding, it's yielded some of the most rancorous reviews in recent memory. Crack open a Budweiser and raise the flag and let's get to poring over the 9 most scathing critical responses to Red Dawn!

9. "There aren't many occasions when I think a movie literally shouldn't have ever been made, but the release — or more specifically, the end result — of Red Dawn marks an important one." — Todd Gilchrist, Celebuzz
8. "Red Dawn is a ghoulish parody of reality, served up earnestly and obliviously, to an audience whose enjoyment will, perforce, be directly proportional to its ignorance." — Hugh Ryan, Salon
7. "Reasonably dopey fun on its own, the remade Red Dawn simply can't stand up to the real-world issues it steps on like a land mine." — Mark Olsen, L.A. Times
6. "This paint-by-numbers picture with false drama and middling action has next to nothing to justify its very existence. Red Dawn, on a fundamental level, is garbage." — Jordan Hoffman, Film.com
5. "Early on, I was rolling my eyes at the strained familiarity of Red Dawn; by the time it started wedging Subway references into the mouths of its teenage freedom fighters between firefights, I may have been rooting for the invaders a little." — James Rocchi, MSN
4. "Less easy to overlook though is [Josh] Peck's overactive emoting or the dumbstruck look that [Isabel] Lucas can't seem to shake. Some of these actors are just dead, and that's before they're supposed to be." — Tom Long, Detroit News
3. "[As] the forces of Kim Jong-un overrun Spokane, Wash., by sea in Red Dawn, a soon-to-go-guerilla high schooler exclaims, 'North Korea? That doesn't make sense!' Get used to it, kid." — Jim Slotek, Jam!
2. "By the end, we appreciate the wisdom of the character who says, 'Dude, we're living Call of Duty. And it sucks.' That's a big 10-4, soldier." — Jay Stone, Canada.com
1. "[The] Heaven's Gate for the Hunger Games generation... Not since The Truman Show have we seen characters so blatantly stunted by studio interference." — David Ehrlich, Box Office Magazine
Way to go, Wolverines!
Did you see Red Dawn? Tell us if you agree with the critics below.
Follow Jen Yamato on Twitter.
Follow Movieline on Twitter.