WATCH: Daring, Dark 'ParaNorman' Channels 'Goonies' In Exclusive Clip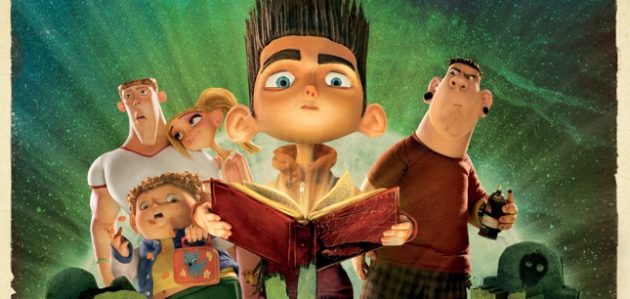 If you missed the excellent ParaNorman in theaters (or saw the similarly macabre and quirky Frankenweenie instead), catch an exclusive clip from the dark, funny, moving, and visually impressive stop-motion animation about a loner kid named Norman whose ability to see dead people first makes him an outcast, then an unlikely hero, when his small town is overrun by zombies.

Movieline's exclusive clip finds Norman (Kodi Smit-McPhee) and his Goonies-esque band of misfits — including school bully Alvin (Christopher Mintz-Plasse), sister Courtney (Anna Kendrick), reluctant BFF Neil (Tucker Albrizzi), and Neil's jock brother Mitch (Casey Affleck, who gets one of the film's biggest adults-only laugh) — searching the town library for a key piece of information as zombies, and more terrifyingly, parents, run amok outside.
Much of what makes ParaNorman one of the best children's films of 2012 is the writing, which doesn't condescend to its young audience; this is a movie that knows that being a kid can really suck — especially for victims of bullying, or even just oddballs who stand out from the crowd a little too much. It embraces death as a real tangible fact of life and goes to some terrifying places while moving at a dynamic pace, lightened by a savvy sense of humor, which is what makes ParaNorman the quintessential Tim Burton film that Frankenweenie just quite wasn't.
ParaNorman hits DVD and Blu-ray November 27. Did you catch it in theaters? Let the ParaNorman lovefest unfold in the comments below.
Follow Jen Yamato on Twitter.
Follow Movieline on Twitter.