Just One Hitch! 'Hitchcock' Stars Name Their Favorite Scene and Movie By The Master Of Suspense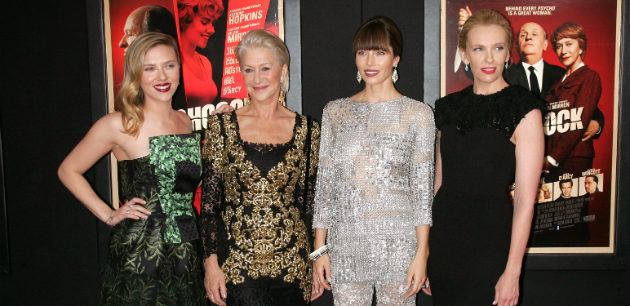 Quick, name your favorite Alfred Hitchcock movie and scene. With the Master of Suspense getting a lot of attention this fall, thanks to the HBO movie, The Girl, and the theatrical feature Hitchcock, which opens in limited release on Friday, Movieline decided these would be good questions to ask of the celebrity contingent that showed up for the New York premiere of the latter film on Sunday.
Hitchcock, which stars Anthony Hopkins in the title role and Helen Mirren as his better half Alma Reville, is set during the making of Psycho and depicts the filmmaker in a more cuddly light than the manipulative misogynist he's made out to be in The Girl.  The comic drama is built around Hitchcock's relationship with his wife and the helpful role she played in his career.   And though Hopkins didn't attend the premiere at the Ziegfeld Theater, I spoke to him via satellite on Saturday. Based on his answers, he's clearly spent some time with Vertigo.
What is your favorite Hitchcock film and your favorite scene? 
Anthony Hopkins, the star of Hitchcock
Movie: "Vertigo is one of my all-time favorites. I think it's the haunting music of Bernard Hermann and James Stewart's romantic obsession for this young woman who is a mystery.  She's beautiful, blonde, inaccessible. He falls madly in love with her, and she's killed halfway through or a quarter way through the film. She just falls out of the window or commits suicide. Then she reappears on the street in San Francisco."
Scene: "That scene particularly, when he follows her across the street to her hotel. That late afternoon light in the San Francisco street, 54 years ago when it was made. And the moment when he leaves her room, he says, "Can I take you for dinner," and Kim Novak, as he goes out, turns towards the camera and you see the whole plot. You're let in on the secret that this was a setup and James Stewart is the victim of an appalling tragedy—a woman's murder. Then, he sees her on the street and becomes obsessed with repossessing Madeleine. He makes her have her hair done and the skirts and the shoes and everything. He's obsessed, as Hitchcock was about the costuming, about the dressing of his female stars. He's waiting in her hotel room and she's finally persuaded to have her hair done the way Madeleine had it. She comes out and she's come back from the dead. I mean, that's the kind of mystical genius of Hitchcock.
I think that has now become the top, number one film of all time. The critics destroyed it when it came out. They just said it was rubbish. Now, it's number one. Top movie, above Casablanca and all those. So, the guy's genius lives on, many years after his death."
Sacha Gervasi, the director of Hitchcock
Movie:  "Hel-lo, Psycho. With many filmmakers there's perhaps two or three masterworks, but with Hitchcock there's ten or twelve. That's very rare. I also love Vertigo, because it's so romantic. I think it's sort of unintentionally revealing of the man himself."
Scene: "How could I not say the shower scene? It's so revolutionary and so shocking and surprising."
Scarlett Johansson, Janet Leigh in Hitchcock
Movie:  "Strangers on a Train. As a kid, I liked the look of it. I liked the cinematography. I liked the suspense. I liked everything about it."
Danny Huston, Strangers on a Train screenwriter Whitfield Cook in Hitchcock
Movie: "Strangers on a Train — only because I wrote it. [Laughs] I suppose Psycho because of those memorable moments; because it all came together in such a terrifying way and it's just such a deeply psychological film."
Scene: "I don't know whether it's my favorite, but the one I just can't shake, especially when I get soap in my eyes in the shower is the Psycho shower sequence. It's just something that stays with me. And, if you're somewhere around birds and the birds get a little too close to you, then you have that memory, too. It's a subconscious thing."
Toni Collette, Peggy Robertson in Hitchcock
Movie: "It's too hard. I mean, do you know how many movies he made? Jesus. I always go for Rear Window. Psycho is probably the most famous, which is why [Hitchcock] is so enlightening. He's the master."
Scene: "I'm too jetlagged to recall."
Michael Stuhlbarg, Lew Wasserman in Hitchcock
Movie: "It's impossible to choose between them. Each one accomplishes a different feat. I am particularly taken by Rope, especially because of the technical achievement of shooting the story so that it appeared to be a single continuous shot and how he creatively found ways to hide that."
Scene: "When that biplane comes after Cary Grant in North By Northwest and how close it gets to him — that's an iconic scene that has stayed with me."
Jessica Biel, Vera Miles in Hitchcock
Movie: "I actually just saw Dial M for Murder, which I quite loved a lot. That and The Birds, of course."
James D'Arcy, Anthony Perkins in Hitchcock
Movie: "I think the best one is the last one I watched, because the minute you see it you're struck by his genius and you forget the other ones. Then, you watch the next one. The last one I saw was Foreign Correspondent, which is a 1940 piece of war propaganda. It's utterly mesmeric. It's got one of the best plane crashes I've ever seen. That wasn't even on my radar before I'd seen it. Now it's my favorite Hitchcock film."
Scene: "Wow. That is a difficult question. That shower scene in Psycho. That had people running out of cinemas when it was first screened. It's just so iconic."
Jon Voight, actor
Movie: "I don't have any favorites. I liked what he did for cinema, you know? And everybody who makes a film has learned something from Hitchcock and the way he made films. So, every film I see reminds me. 'They took that from Hitchcock, they took that from Hitchcock.' The things he employed became ingested by everybody in filmmaking."
Amanda Setton, actress, The  Mindy Project
Movie: "I don't want to be cliché, but I have to say Psycho. We shoot on the Universal lot in L.A. and the Bates Motel and the Psycho house are on our back lot, so I kind of feel a very personal relationship to the 'epicness,' if you will, of that space."
Ralph Macchio, actor
Movie: "Right now, it's Rear Window. I just wrote a short film that I'm going to direct this December and there's a voyeur-esque element to it."
Scene: "Certainly the shower scene in Psycho. There's a zillion of 'em."
Steve "Lips" Kudlow, frontman, Anvil
Movie: "It would probably be Dial M for Murder. It was really brilliant that there was virtually nothing but one room. That and Rear Window. Those two movies. Wow."
Nell Alk is an arts and entertainment writer and reporter based in New York City. Her work has been featured in The Wall Street Journal, Manhattan Magazine, Z!NK Magazine and on InterviewMagazine.com, PaperMag.com and RollingStone.com, among others. Learn more about her here.
Follow Nell Alk on Twitter.
Follow Movieline on Twitter.