High & Low: Anime Gets Tragic in 'Grave of the Fireflies' While Alain Delon Captivates As A Spaghetti-Western Zorro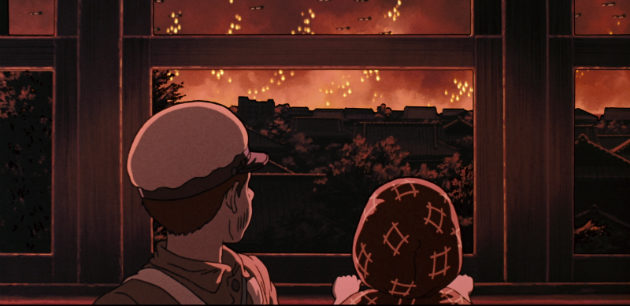 If you thought Japanese animation was all horny teens and laser guns and rocketships, prepare to have your mind blown by a tragic tale of wartime and lost youth (Grave of the Fireflies). And if you thought French star Alain Delon was known only for his work for art-house directors like Luchino Visconti and Jean-Pierre Melville (and for appearing on the cover of The Smiths' The Queen is Dead album), get ready to watch him buckle his swash (Zorro).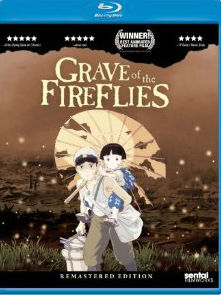 HIGH: Grave of the Fireflies (Section 23; $19.98 DVD, $29.98 DVD)
WHO'S RESPONSIBLE: Written and directed by Isao Takahata, based on the novel by Akiyuki Nosaka.
WHAT'S IT ALL ABOUT: Teenage Seita and his young sister Setsuko are on their own after their mother dies in the firebombing of Tokyo in the waning days of World War II. There's never a good time for children to be separated from their loving parents, but there are few junctures of history worse than being in Japan in the final months of that bloody conflict. The two do what they can to survive, but hopelessness is hard to overcome.
WHY IT'S SCHMANCY: My friends in the cartoon biz love to say "Animation is not a genre," so even though this is an animated movie, and one about kids no less, Grave of the Fireflies is an intensely moving (and often disturbing) film that's definitely not for the youngest of viewers. Director Takahata doesn't have the PR in the Western world of his Studio Ghibli partner Hayao Miyazaki (Spirited Away, My Neighbor Totoro), but he's made two movies (this one and Pom Poko) that leave me a sobbing wreck every time. Fireflies deserves to be mentioned in the same breath with other antiwar classics like Forbidden Games and Spirit of the Beehive, both of which are also told from young people's perspectives.
WHY YOU SHOULD BUY IT (AGAIN): It's a gorgeous piece of work, even when the misery portrayed is hard to watch, so the fact that the film is finally getting a Blu-Ray release in the U.S. is exciting news. This version also features a new English-language dub, as well as storyboards for the film (and for some deleted scenes), along with the Japanese theatrical trailer.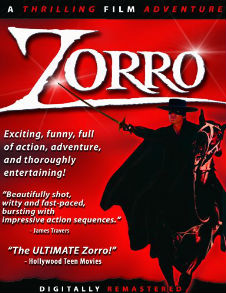 LOW: Zorro (Somerville House; DVD $19.98, Blu-Ray $24.98)
WHO'S RESPONSIBLE: Written by Giorgio Arlorio; directed by Duccio Tessari; starring Alain Delon, Ottavia Piccolo, Stanley Baker, Moustache. (Yes, Moustache.)
WHAT'S IT ALL ABOUT: Nobleman Don Diego de la Vega (Delon) masquerades as his dead friend and fills in as the governor of an embattled province so that by night, as masked swordsman Zorro, he can engineer the overthrow of the despicable Colonel Huerta (Baker) and his troops. Zorro fights on behalf of the oppressed peasants with the help of Brother Francisco (Giampiero Albertini) and the beautiful Hortensia (Piccolo).
WHY IT'S FUN: The character of Zorro dates all the way back to the pulp magazines of the early 20th century, and he's been a reliable standard of film and TV, portrayed by everyone from Douglas Fairbanks to Antonio Banderas. (And I will admit a soft spot for George Hamilton's hilariously spoofy turn in Zorro, the Gay Blade.) If you're a fan of spaghetti Westerns — those wonderfully grimy and wildly entertaining horse operas that inspired Quentin Tarantino's upcoming Django Unchained — you'll enjoy watching Italian day players pretending to be South American peasants. Delon puts a fun spin on the material, and director Tessari (most known for his contributions to the screenplay of A Fistful of Dollars) keeps thing exhilarating and exciting. This was my first Zorro movie as a child — it played theatrically in 1976 and then seemed to air perpetually on television soon thereafter — and it imprinted on me for life. (As did the catchy theme song, which will never, ever leave your head after you hear it.)
WHY YOU SHOULD BUY IT (AGAIN): This Blu-Ray debut offers up a few extras, including trailers and radio spots, biographies of Delon and Tessari, and side-by-side comparisons that demonstrate how much better the digital restoration makes this zippy Euro-adventure look.
Alonso Duralde has written about film for The Wrap, Salon and MSNBC.com. He also co-hosts the Linoleum Knife podcast and regularly appears on What the Flick?! (The Young Turks Network). He is a senior programmer for the Outfest Film Festival in Los Angeles and a pre-screener for the Sundance Film Festival. He also the author of two books: Have Yourself a Movie Little Christmas (Limelight Editions) and 101 Must-See Movies for Gay Men (Advocate Books).
Follow Alonso Duralde on Twitter.
Follow Movieline on Twitter.