'Bates Motel' First Image: Vera Farmiga Is Mama Bates In The 'Psycho' Prequel
A widow (Vera Farmiga) lounges with her teenage son Norman (Freddie Highmore) in the grass near their new home. How bad could things possibly get? Since this is your first look at A&E's Bates Motel, in which the fresh-faced Highmore plays a young Norman Bates, and Farmiga his dear mother, the answer is, well, a LOT.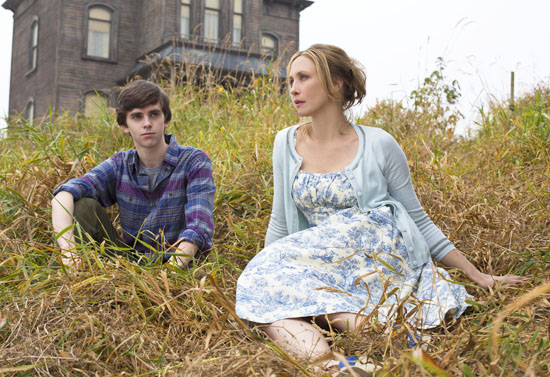 Bates Motel is created by Lost's Carlton Cuse and Friday Night Lights' Kerry Ehrin, and is also set to star Max Thieriot (The House At The End of the Street) as Dylan Bates, Norman's brother and one of a few newly conceived characters joining the previously established world of Hitchcock's Psycho. (Read Movieline's chat with Thieriot here.)
The series doesn't hit the airwaves until next year, but it's no surprise A&E is seizing their chance at building buzz now, with Hollywood in a period of Hitchcock mania; the Anthony Hopkins-as-Hitch dramedy Hitchcock opens in limited release this week, while HBO's more serious, skeezy portrait of the Master of Suspense The Girl debuts this fall.
What intrigues about this Bates Motel first look, meanwhile, is twofold: First, the hint of a moody-emo shadow in Highmore's face — young Norman still seems innocent, but we know that'll change soon enough. (Plus, he totally nails that young Anthony Perkins look.) More provocative still is the sheer distance in Farmiga's eyes as she gazes away from her child, her new hotel, her life. That's acting with a capital A, people. I'll watch just to see what kind of terrible parenting skills it takes to turn little August Rush into a psychopath.
[via The Hollywood Reporter]