Jude Law: Age Helped Me Tackle 'Anna Karenina'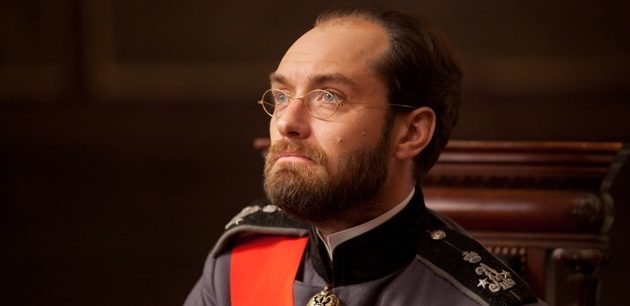 Oscar-nominated actor Jude Law plays a pious aristocrat in director Joe Wright's sumptuous big screen adaptation of Anna Karenina. Almost unrecognizable behind a steely exterior, Law's Karenin is Anna's spurned husband in the film, which begins its roll out Friday and is a possible awards season heavyweight. Law seamlessly pulls off playing the high-ranking nobleman whose position at the heights of Imperial Russian society is rocked when his wife embarks on an affair with a dashing young soldier. Speaking about his role, Law, who turns 40 next month, said that he doesn't think he could have played the character when he was younger — but he certainly would have given it a go.

"When I was 25 I would probably say I could have played Karenin," said Law. "When I was 29 and I put together a production of Doctor Faustus in London, it was successful but it took me the length of the production to realize that I was too young to play it. And I think the same would apply to this situation. I would have given it a good shot, but I think it would not have been as successful."
[Related: Oscars and Obsession: Keira Knightley Talks About 'Jumping Off A Cliff' For Joe Wright In Anna Karenina]
Law said that youth would have been a handicap portraying the staid Karenin, who exudes stability and rationality to a fault. He is the archetypal patriarch that is a complete contrast from the youthful soldier who seduces his wife. "I think you need to have a certain amount of experience to play certain roles," noted Law. "You want the audience to see a certain amount of wounds and battle scars that are obviously flickering in the mind and the soul."
Set in the lavish upper crust societies of St. Petersburg and Moscow in 1874, Anna Karenina follows the vibrant and beautiful Anna (Keira Knightley) who is the envy of nearly everyone in her gilded circle. She is the beautiful, stylish and rich wife of Karenin who holds a high position in the government and is blindly devoted to his spouse. Their enviable partnership is dealt a blow when she travels to Moscow to help save the marriage of her philandering brother Oblonsky (Matthew Macfadyen) after a plea for help from his wife, Dolly (Kelly Macdonald). En route, she meets the dashing cavalry officer Vronsky (Aaron Taylor-Johnson), which ignites passion; she returns to St. Petersburg, but she is followed by Vronsky and becomes consumed by him, and they go full-throttle into a ravenous love affair that stuns the establishment.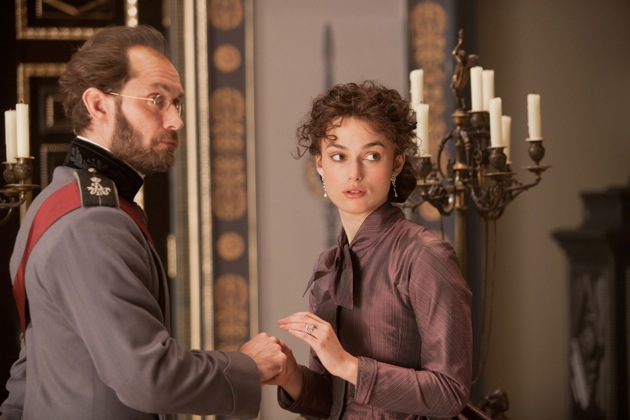 Law said he believes some Anna Karenina readers have misunderstood his character. Though he is sullen compared to the dynamic Vronsky, there is complexity in his personality that many readers of the novel have failed to appreciate.
"A lot of people I spoke to before I embarked on it said he was dull and cold, but I disagreed with them," said Law. "I hadn't read the novel before, but after reading it I was glad Joe [Wright] agreed with me, because I think it sort of belittles Tolstoy's study of human complexity. People are complex and there's a misunderstanding. But you do feel for him because he's dragged into this arena of gossip and scandal. But ultimately for him, he has to question his belief in God because he believes his marriage is sanctioned by God."
Karenin's position at the pinnacle of a narrow class of people who delighted in rarified privilege contrasted with the bleak existence that huge swaths of Russians were forced to live in during czarist times. Though Law said he was disturbed to see how extraordinarily the aristocracy lived while most people were barely living a life one notch above serfdom in Russia, he did see some parallels to today.
"It's shocking that they were that indulged and were able to follow their whims and fancies to such extraordinary lengths — and we look at that with jealousy and at times and with fascination. What intrigues me is that the heart of the piece is about love. But there are other aspects in the book that have also been highlighted in the film and that is the role of gossip and judgement. Today there is much of the same thing and we see that online and in papers all the time. We still do that — we call out people for 'breaking the rules.'"
Read more on Anna Karenina.
Follow Brian Brooks on Twitter.
Follow Movieline on Twitter.