You Tell Us: Is Channing Tatum Really Sexier Than Robert Pattinson?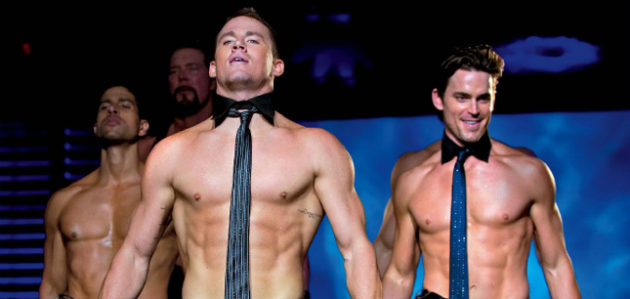 So the good news is pouring in for Channing Tatum today.  In addition to nabbing People's Sexiest Man Alive honor, GQ magazine chose the Magic Mike star as its Movie Star of the Year, part of its annual Men of the Year issue. That means Tatum and his strong chin will be gracing at least two magazine covers in the coming weeks, and that's got me wondering: where is the Twi-hard outrage over Robert Pattinson being snubbed? 
With the sun finally setting on The Twilight Saga, it's remarkable that RPatz — who had the crowds thrilling and screaming at the Breaking Dawn Part 2 premiere earlier this week— did not nab Sexiest Man honors once since 2008 when the film franchise debuted. Hugh Jackman graced People's cover in 2008; Johnny Depp in 2009; Ryan Reynolds in 2010; and Bradley Cooper  in 2011.
Related Story: Check out Movieline's photo gallery of Robert Pattinson, Kristen Stewart  & Co. at the Breaking Dawn 2 premiere.
Pattinson, who seems more concerned with being an actor than a screen idol, probably isn't terribly interested in such an accolade, and he's in good company. Last year, People's decision to choose Cooper over Ryan Gosling sparked quite a furor among Baby Goose's fans,  along with the rumor that the magazine had actually wanted to put Gosling on the cover but went with Cooper when the Drive actor, who's all about the work, declined to give them an interview or participate in a photo shoot. (People and Gosling's publicist denied this at the time.)
Still, I'm betting Pattinson's fans are feeling miffed right now, and I'd like to gauge the depth of that dissatisfaction by inviting them — and any other lover of big-screen beefcake — to vote for the actor they would crown the sexiest man alive if they were calling the shots at People. I've listed five choices, including Tatum, Pattinson and Gosling. The rest is up to you. If you feel there's a better candidate out there than the available choices, write him in the comments box and I'll add him to the poll.
As for what People's honor will mean for Tatum besides a butt load of publicity, I don't see any real correlation between People's coronation and an actor's career. The year that has passed since Cooper got the People cover has been a good one for the actor, given the success of Limitless and his fine performances in The Place Beyond The Pines, which will be released next year (and also stars Gosling), and Silver Linings Playbook, which opens Friday, and is generating Oscar buzz for the actor.
But if you go back to 2010 Sexiest Man Alive Ryan Reynolds, the year that followed his anointing saw him star in the critically savaged Green Lantern, which, according to Box Office Mojo has only made about $20 million more (worldwide)  than its $200-million production budget.
Let's see which way the wind blows for Tatum.
Follow Frank DiGiacomo on Twitter.
Follow Movieline on Twitter.